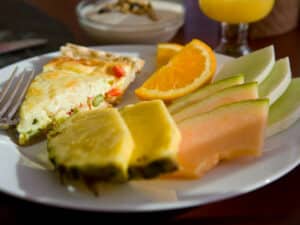 February is National Hot Breakfast Month in the U.S., and the UK celebrates Farmhouse Breakfast Week, but here at The Inn, Farmhouse, & Brewing Co. at Turkey Hill, our guests enjoy a delicious hot breakfasts every day of the year! Winter's cold mornings in Northeastern Pennsylvania make our warm homemade breakfast choices the best way to start your day at the Inn. Hot Breakfast Month reminds us that the first meal of the day – breaking our overnight fast – isn't just about nutrition, it's also about making the whole day better "by taking the time to take care of yourself and spend a little time on something special".
We know everyday mornings at home can be too busy to cook and enjoy a hot breakfast, so here at the Inn, we're ready to pamper you each morning with a complimentary warm meal. We'll tempt you to begin with freshly squeezed orange juice, pastries hot from our oven, and choices of fresh fruit, cereals, and yogurt. Our chef will be waiting to prepare a hot entrée for you, and there's always a choice. It might be chocolate chip pancakes with maple syrup, or perhaps a vegetarian frittata or quiche, served with our special Cheesy Grits. Instead of cooking, you can relax and enjoy sipping a fresh cup of hot coffee or tea at your table in our beautiful greenhouse, with its wintry view of the gardens.
Whether you're staying with us for business or a relaxing getaway, our continental breakfast buffet and warm entrées await you from 6:30-10:00 am weekdays and from 7:00-11:00 am on weekends. National Hot Breakfast Month is ending soon, but we'll continue making breakfast 'the most important meal of the day' for our guests all year long, whatever months they book their stays.