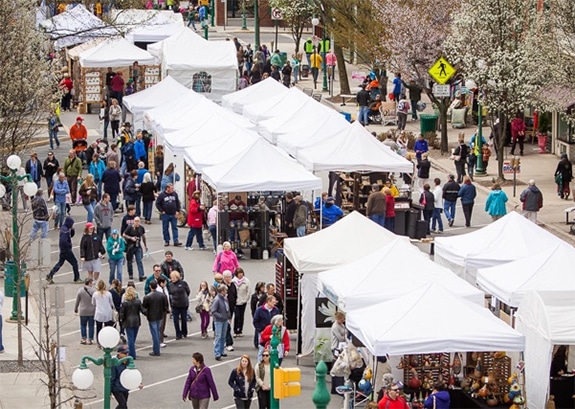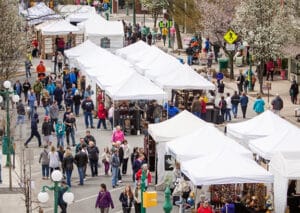 Lewisburg, PA's two week Celebration of the Arts, from Saturday, April 28 to Saturday, May 12, 2018, features over 100 juried artists. The 2018 Featured Artist will be plein-air landscape painter Simonne Roy. The Celebration begins with the Lewisburg Arts Festival, Saturday, April 28, 2018, from 10 am until 5 pm.
Festivities kick off Friday evening, April 27, 2018, with receptions for both the juried Annual Indoor Art Exhibit and Sale at the Packwood House Museum, and the juried Photography Exhibit in the William Himmelreich Library. Both exhibits run from Saturday, April 28 through Saturday, May 5, 2018. Faustina Gallery hosts the Featured Artist exhibit, opening April 28, with the reception May 5 from 2-4 pm.
Saturday's Festival includes a variety of performances at the Main Tent and the Gazebo, both in Hufnagle Park. Visitors will be treated to live music, drumming, poetry, a RiverStage Community Theatre performance, and the duck derby. Other locations in the Park will feature the Society for Creative Anachronism, Ashburn's Animals on a Mission petting zoo, the Garden Club Plant Sale, and the Community Commons featuring many area nonprofits offering activities. At the Dance Corner at Post Office Square, six different dance troupes will perform throughout the day.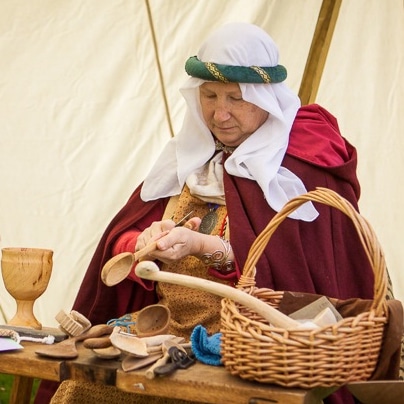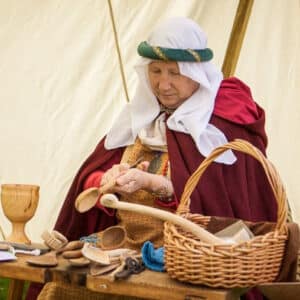 Visit the Celebration of the Arts website for the complete schedule of Arts Festival performances, locations, and times. If visitors work up an appetite with all their gallery visits and entertainment watching, they won't go hungry. The Festival will have four different food areas, plus an Artisanal Food area on Market Street. Although the Festival ends at 5:00 pm, the live music continues into the evening with a Flute/Guitar jazz duo performing from 6:00-8:00 pm at Brasserie Louis (reservations accepted/no cover).
Lewisburg's Celebration of the Arts continues from Sunday, April 29 to Saturday, May 12, with the Plein Air Event. This two-week long event includes four free workshops in different art forms. The Celebration's final event is Lewisburg Live! on Saturday, May 12, 2018. That evening the town celebrates with live music of seven different bands at nine venues- all free!
All the events at Lewisburg's Celebration of the Arts are just a half-hour drive from the Inn, Farmhouse, and Brewing Company at Turkey Hill, so make your reservation soon!
Lewisburg Arts Festival
Date: Saturday, April 28, 2018 Time: 10 am – 5 pm
Admission: FREE
Parking: Park at the Weis north parking lot off Route 15 and take the free shuttle bus. The bus will leave every 10 minutes and make four stops downtown at the Festival.
Photos courtesy of Lewisburg Arts Council