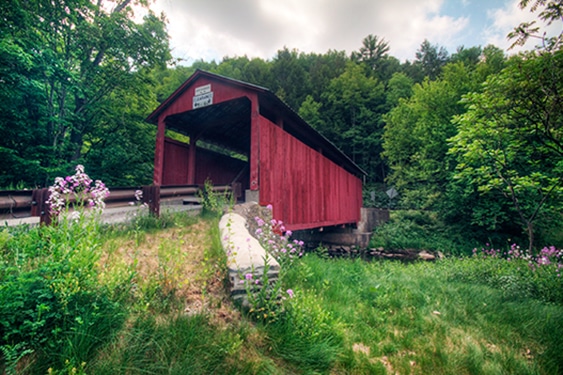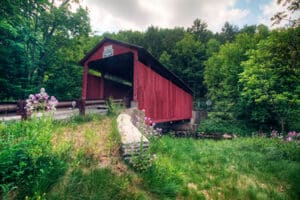 If you like to take scenic photos when you vacation in Northeastern Pennsylvania, the 25 covered bridges in Columbia and Montour Counties are perfect subjects. Every year there is a contest for the best photo of one of them.The rural landscapes surrounding Bloomsburg make the Inn, Farmhouse, and Brewing Co. at Turkey Hill a perfect place to stay for photography buffs. Of course, the Inn is always a great choice, whether your summer plans include outdoor activities like hiking and kayaking, scenic drives to visit our historic sites, events like our festivals and fairs, or just relaxing while you explore our area.
Why be sure to bring your camera? The Columbia Montour Visitors Bureau is sponsoring two different photo contests right now. The Covered Bridge Photo Contest will select the winning photograph for the Visitors Bureau's 2018 limited edition puzzle. Each year, the 500 piece puzzle features one of the 25 covered bridges in Columbia and Montour Counties. For the 2018 puzzle contest, they will accept entries until June 1 this year. If you visit later in the summer, fall, or winter, just save your entry for 2019! Past puzzles have featured the East & West Paden bridges, Esther Furnace Bridge, Josiah Hess Bridge, Keefer Mills Bridge, Knoebels Bridge, and Stillwater Bridge. For contest rules and entry instructions, visit the Covered Bridges page of the Visitors Bureau website.
Did you know that per square mile, Columbia and Montour Counties have one of the highest concentrations of covered bridges in the world? Your best guide to them is the 11 page downloadable brochure with photos and information about each of the 25 bridges. The brochure also includes two tour routes, detailed directions, and maps. The Pennsylvania Covered Bridges website has more tips about each bridge, plus an interactive map to help you plan your route. A third website, Columbiapa , illustrates each bridge and includes additional statistics and GPS coordinates.
The second contest welcomes your photos no matter what the subjects around Bloomsburg. Throughout the year, you can tag your best pictures of our area with #iTourColumbiaMontour on Instagram for a chance to be featured on their website. Spring and summer here are full of great photo ops. In addition to taking pictures on hikes, kayak trips, or scenic drives, you'll find activities from weekly outdoor concerts and Crosscutters Baseball to events like Wine in the Pines, the Benton Rodeo, and Bloomsburg Nationals. Now is the time to make sure your summer vacation plans include a stay with us here at the Inn. Every one of our guest rooms is unique, so choose your favorite, then give us a call or go online to make your reservation. Remember to bring your camera and don't forget to post your photos with #iTourColumbiaMontour on Instagram!
Photo of Sam Eckman Bridge courtesy of Columbia Montour Visitors Bureau