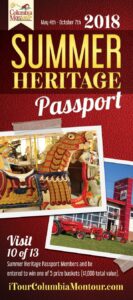 Visitors to Bloomsburg, Pennsylvania and the surrounding area will find many historical tourist attractions, museums, and heritage sites. The new Summer Heritage Passport is a fun way to explore our region of Northeastern PA during your summer vacation or weekend getaway. Visiting the Passport's 13 stops "will take participants on a journey through the history, culture, and stories of Columbia & Montour Counties and beyond." Every attraction has a unique experience to offer, from the Knoebels Carousel Museum to the Pioneer Tunnel's tour of an anthracite coal mine. Visitors who complete at least 10 of those on the route by Sunday, October 7, 2018, will be entered in a drawing for five different prizes, totaling $1,000 in value.
Three of the Heritage Passport sites are right here in Bloomsburg, and the others are less than an hour's drive away. Five more are 15 miles or less away, in Catawissa, Elysburg, and Danville. Two are about half an hour away to the west and south. The last three attractions are near Eagles Mere, only an hour away. All attractions will be open during their normal hours. Many are open most or all days of the week, but a few are open only on weekends, or just Sundays. Many offer free admission; some charge admission fees of $5 – $8.One location, the Pioneer Tunnel, charges $17 for the combined tour of the mine and train ride.
A variety of Heritage Events will feature some of the Passport attractions throughout the summer and early fall. These include:
Carousel Organ Association America Rally at Knoebels Amusement Resort – Carousel Museum Dates: June 16 – 17, 2018
Danville Heritage Festival at Danville, PA Dates: July 20 – 22, 2018
Wall of Death Motorcycle Stunt Show at Bill's Old Bike Barn, Bloomsburg, PA Dates: June 29-July 1, 2018
Pioneer Day 2018 at Pioneer Tunnel Date: August 18, 2018
Barton House and School at Bloomsburg Fairgrounds Dates: open Bloomsburg Fair Week September 22-29, 2018
Other Heritage Events at locations other than Passport attractions include:
Celebrate Historic Berwick at Berwick, PA Date: June 2, 2018
World War II Weekend Living History Encampment at Berwick, PA Dates: July 21 & 22, 2018
Annual Strawberry Festival at Historic Warrior Run Church, Watsontown, PA Date: June 10, 2018
Fort Freeland Heritage Days at Historic Warrior Run Church Dates: October 6 – 7, 2018
To learn more about the new Summer Heritage Passport and Summer Heritage Events, download the brochure with detailed information about each event, Passport locations, and additional heritage sites in the region. The Inn has featured some of these attractions and events in past blogs, including Bill's Old Bike Barn, Pioneer Tunnel, and Berwick's WWII Weekend. Look for some additional blogs about Summer Heritage sites and events throughout the summer.
Our historic surroundings here at the Inn, Farmhouse, and Brewing Co. at Turkey Hill are the perfect place to stay this summer while you explore our many historic tourist attractions and events. You'll enjoy the heritage setting created by our Brewery's pole barn and the Inn's 19th century farmhouse combined with the personal touch of a B&B and the 21st century amenities of a hotel. To reserve your room at the Inn for your Heritage Passport adventure, or for any other summer plans in the Bloomsburg area, just go online or give us a call at (570) 387-1500.