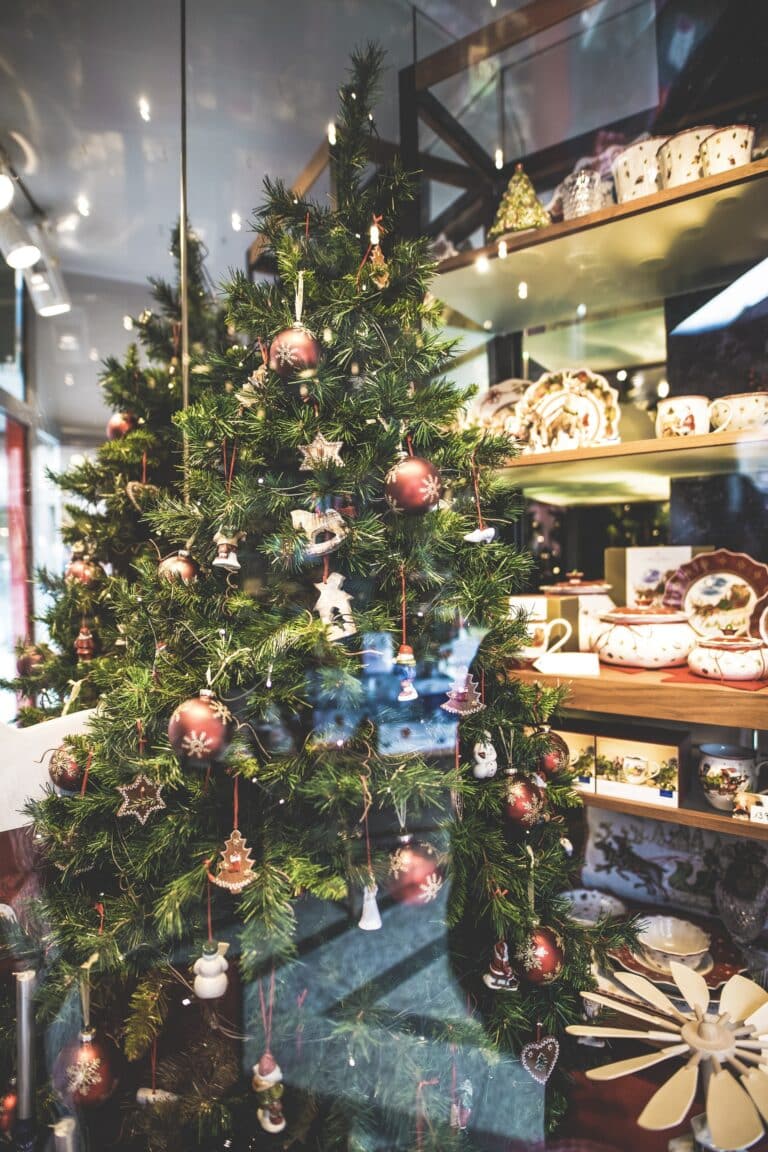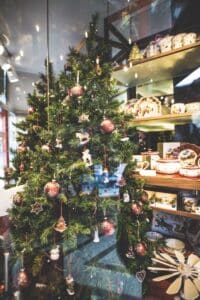 Tired of the stress of crowded malls and anonymity of shopping online? Getaway to The Inn, Farmhouse, and Brewing Co. at Turkey Hill in Bloomsburg, PA, and discover the Famous Street of Shops, "An Indoor Country Village,"in nearby Lewisburg, PA. Imagine finishing your holiday shopping with a choice of more than 375 different shops all gathered into a quaint indoor village.
It's one of the most unique shopping experiences you can have, with all kinds of gifts and merchandise from artwork to vintage furniture and historic collectibles. Whether you're looking for handcrafted artisan gifts like art glass, jewelry, or pottery, antiques like country primitives, vintage clothing, or even musical instruments, you'll find them there, plus much more. The Street of Shops also is home to a huge, 40,000 square foot Flea Market featuring constantly changing stock.
You'll feel like you've stepped back in time to Christmases past as you wander throughout the Victorian streetscapes with their vintage facades. Stroll among different streets and levels, where you'll find shops uptown, downtown, along Main Street, around the Market Square, and even down a country lane. Storefronts sparkle with holiday lights and greenery in this historic former woolen mill.
The Foyer showcases a gallery of special items including jewelry, coins, fine china, and collectibles. On Main Street, Victorian street lights line the path between the variety of storefronts. Downtown features an eclectic assortment of shops featuring in everything from collectible books to original artwork. Visitors strolling through Uptown can browse in shops specializing in everything from teak furniture to Coca Cola collectibles. A vintage style restaurant and soda fountain serving home-style meals complements the Victorian streetscapes. To see each area in more detail, The Street of Shops offers a virtual tour on their website.
The Street of Shops in Lewisburg is just a half hour drive west of Bloomsburg. When you stay at our independent boutique hotel off I-80, you'll begin your morning with a leisurely breakfast complete with home-baked pastries, fresh fruit, and a hot entrée that changes daily. You'll be ready to spend the day exploring the stores in Lewisburg, as well as Bloomsburg's shops and galleries and Orangeville's Shops at Forever Green.
Look forward to returning to the inn where you can relax with your feet up in front of a cozy fire. Then treat yourself to a gourmet dinner in our Farmhouse Restaurant, or enjoy more casual fare and one of the artisan brews on tap at our Turkey Hill Brewing Company Bar and Grille. Black Friday and Cyber Monday have past – now it's time to enjoy a different kind of shopping experience! Holiday elves at the Inn are waiting to help you plan your getaway – just call 570-387-1500, or go online to reserve your stay.
The Famous Street of Shops
Address: 100 N. Water Street, Lewisburg, PA
Days and Hours: Mondays – Thursdays from 10 am to 5 pm
Fridays from 10 am to 8 pm
Saturdays from 10 am to 5 pm
Sundays from 8 am to 5 pm.
Phone: 570-524-5765
Photo by Marcus Spiske on UnSplash