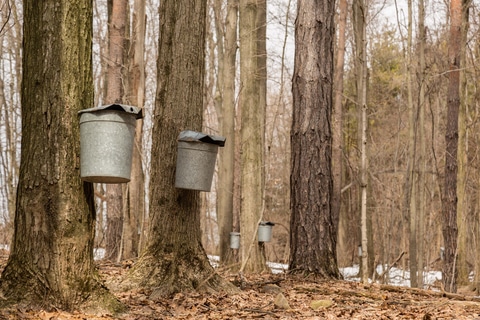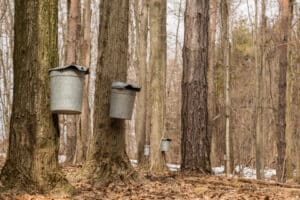 Maple sugaring season has arrived Pennsylvania, including at the Montour Preserve, just a 25 minute drive from The Inn, Restaurant, and Brewing Co. at Turkey Hill in Bloomsburg, PA. The Montour Area Recreation Commission will make maple syrup at Maple Sugar Open Houses on Sunday, March 3, 2019, and Saturday, March 9, 2019.
On Sunday, March 3, the open house programs will begin at noon, 1:00 pm, 2:00 pm, and 3:00 pm at the Preserve's Environmental Education Center. Visitors will learn about the natural and cultural history of maple sugaring there. After that program, they will take a short walk to the Sugar Shack to see the processes involved in transforming maple sap into delicious maple syrup. Demonstrations at the Sugar Shack will end at 4:00 pm.
On Saturday, March 9, the Recreation Commission will host maple sugaring demonstrations at the Sugar Shack from 9:30 am until 2:30 pm. Both days, visitors should be sure to dress appropriately for a walk in the winter woods.
There will be maple products to purchase on both days. Note that there are new grades for maple syrup that more clearly describes the range of flavors from Grade A Golden Color Delicate Taste, to Grade A Very Dark Color Strong Taste and Processing Grades.
Some maple sugaring trivia from www.pennlive.com:
Pennsylvania is the 5th largest producer of maple syrup in the U.S., with about 5% of the nation's production. (Vermont produces about 42%.)
Maple syrup may have over 50 calories in a single tablespoon, but it also has calcium, potassium, magnesium, manganese, phosphorus and iron, plus traces of vitamins B2, B5, niacin and folic acid.
The volume of sap needed to make a gallon of syrup varies with the concentration of sugar in the sap. The sugar content of maple sap varies from tree to tree; normally it is about 1.5 – 3 %. So it requires about 43 gallons of sap with 2% sugar content to produce one gallon of maple syrup.
Producing maple sugar or maple candy requires even more – one gallon of maple syrup weighs about 11 pounds, while the same 43 gallons of sap yields only 8 pounds of candy or sugar!
Maple sugaring lasts for just a few weeks in the spring, when days are warming and nights are below freezing in Northeastern Pennsylvania. Don't worry though, a sweet stay at the inn is always just a phone call away, and you'll enjoy breakfast entrées with maple syrup all through the year. Remember, our Getaway Special is available in a Stable or Courtyard Room through April!