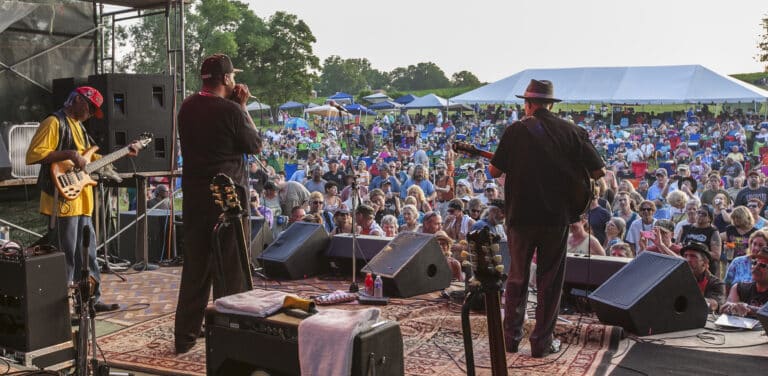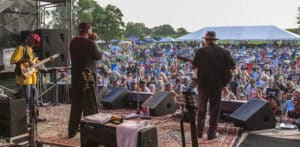 Pennsylvania's Briggs Farm Blues Festival, "The Best Weekend of the Year!" will be July 11-14, 2019. The family friendly music festival at Briggs Farm in Nescopeck, PA, is just 25 minutes east on I-80 from The Inn, Farmhouse, and Brewing Co. at Turkey Hill in Bloomsburg, PA.
2019 is the 21st year the Festival has brought Blues fans and award-winning Blues bands from across the nation to Northeastern Pennsylvania for a full weekend of music. In 2017, Briggs Farm was awarded the "Keeping the Blues Alive" Award in Memphis, Tennessee, for their dedication to the Blues. Only one festival is honored each year with this award.
The 2019 Briggs Farm Blues Festival brings over 20 acts on two stages to the Bloomsburg area.
Thursday, July 11, 2019, Briggs Fest kicks off with "Briggstock" a special event featuring Bret Alexander & Friends, celebrating the 50th Anniversary of Woodstock.
Friday, July 12, 2019, the Main Stage will feature Blues performances by Annika Chambers, James Armstrong, Southern Avenue, and Donna the Buffalo. On the Back Porch Stage, it's Bobby Kyle & The Administers, MiZ, Robert Kimbrough Sr., the Clarence Spady Band, and Lonnie Shields.
Saturday, July 13, 2019, listen to the sounds of the Blues on the Main Stage by Cedric Burnside, Vanessa Collier, Slam Allen, and Christone "Kingfish" Ingram. On the Back Porch, it's Scott Pemberton, Nate Myers, Mikey Junior, King Solomon Hicks, and Heather Gillis.
Sunday, July 14, 2019, the Briggs Farm Blues Festival concludes with the "good news' of the Gospel Blues Show featuring Slam Allen, followed by Alexis P. Suter Ministers of Sound.
People come "from all over the country, and even across the world", so don't wait to reserve your room at the Inn to listen to the Blues at "The Best Weekend of the Year" this summer! Just go online to make a reservation or call us at 570-387-1500.
Briggs Farm Blues Festival 2019
Location: Briggs Farm, 88 Old Berwick Highway, Nescopeck, PA The Festival is held rain or shine!
Phone: 570-379-3342
Tickets may be purchased online (children under 12 are free): Four Day Ticket $105, Two Day Ticket (Friday and Saturday) $65, One Day Ticket (Thursday or Sunday) $25, One Day Ticket (Friday or Saturday) $40.
Photo of Briggs Farm Blues Fest 2016 courtesy of Columbia-Montour Visitors Bureau