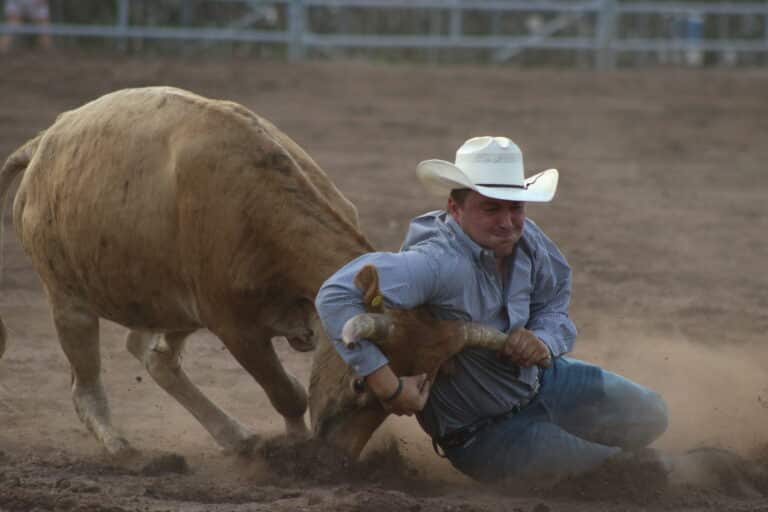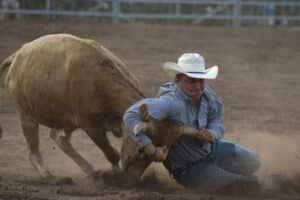 July means it's time for the Annual Benton Area Rodeo, one of the best rodeos east of the Mississippi! Benton is just a 20 minute drive from The Inn, Farmhouse, and Brewing Co. at Turkey Hill in Bloomsburg, so get ready for fun summer evenings at this APRA and IPRA Sanctioned Rodeo.
Professional wranglers from across the U.S. and Canada will be roping, riding, and racing, and Rodeo Clown and Barrel Man Keith Isley will entertain you as part of his national farewell tour. There's BULL-A-RAMA on Sunday, plus musical entertainment and plenty of country fair style food every night!
You'll find the complete schedule of Benton Rodeo events in the brochure on their website, as well as a great gallery of rodeo photos by Greg Crisp.
Here are the skills and courage each event requires:
Here are just a few rodeo highlights:
Tuesday, July 16, 2019 – FREE ADMISSION – The Benton Area Fun Show group presents a Fun Show
Wednesday, July 17, 2019 – FREE ADMISSION – Open Jackpot 3D Barrel Racing
Thursday – Saturday, July 18-20, 2019 – Professional roping, barrel racing, and rough stock contests
Sunday, July 21, 2019 – Bull-a-Rama, with a whole night of professional rough stock and barrel racing contests.
After an evening at this top Rodeo, you can look forward to returning to the country setting of the Inn where you can kick back and relax, or keep the Frontier Days feeling alive with a visit to the Turkey Hill Brewing Company Pub and Grille where you can chow down on a Barn Burner Burger made from grass fed beef while you quaff Barn Dance Blonde Ale. After watching all those cowhands steer wrestling and bronco and bull riding, why not choose The Black & Blue Burger, with bleu cheese, Applewood smoked bacon, caramelized onions, and Cajun seasoning on a toasted roll?
Give us a call today or just go online to book your stay!
Photo of 2018 Benton Rodeo by Shane Kiefer