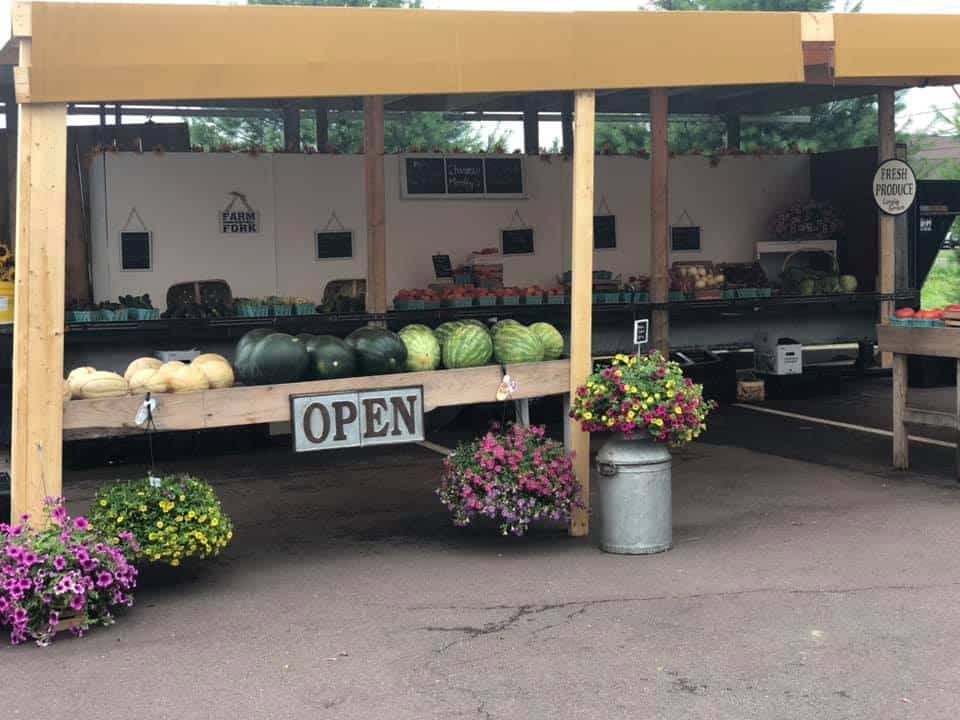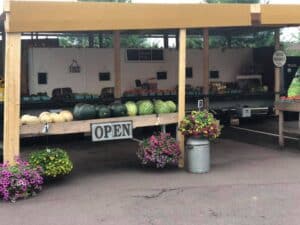 It's summertime, and Farmer Moofy's Produce Stand is open at The Inn, Farmhouse, and Brewing Co. at Turkey Hill in Bloomsburg, PA. From July until late September, you can stop by for locally grown flowers, fruits and vegetables Mondays through Saturdays from 10:00 am until 6:00 pm, and Sundays from 10:00 am until 3:00 pm. You'll find lots of fresh fruits and vegetables in season, plus beautiful flowers!
Visitors to Farmer Moofy's Facebook page are raving about the sweet corn that's fresh picked each morning, tomatoes fresh from his garden, peaches, melons, and berries. Their superlatives include awesome, sweet, delicious, and "freaking fantastic"!
If you stop by Farmer Moofy's farm stand on Saturdays, you can enjoy the Turkey Hill Brewing Company's Saturday Pub Hang from 11:00 am – 3:00 pm, too! Stop by and relax in the Pub's cool downstairs, or enjoy the summer weather and outdoor yard games in their patio/ beer garden. There'll be a local food truck each Saturday, so you can enjoy some casual fare along with their great artisan-crafted brews
Here's the schedule for different food trucks:
July 20, 2019: Mike's Food Truck is locally owned, and works with local farms and markets to feature locally sourced, fresh and healthy menu items. You might find choices like Filipino BBQ burgers or Jamaican Jerk Burgers with pineapple salsa (beef or salmon), Thai Shrimp tacos, Fried Falafel, or Pad Thai tacos (chicken or chickpea).
July 27, 2019: Denny & Pearl's Pizza will be serving their Italian specialties. They began taking their menu on the road long before food trucks were popular. They've served fresh pizza and Stromboli at fairs in Western Pennsylvania for over 50 years! Their Stromboli, with ham, cheese, sauce and pepperoni, is a fair favorite.
August 3, 2019: Mike's Food Truck
August 10, 2019: It's still a secret!
August 17, 2019: Grilled Cheese Cafe II prepares sandwiches on Texas toast feature a selection of American, Cheddar, and Smoked Provolone cheeses combined with different veggies, meats, sauces, and more. Visit their Facebook page for their complete menu and schedule.
August 24, 2019: It's still a secret!
August 31, 2019: It's still a secret!
September 7, 2019: Mike's Food Truck
September 14, 2019: Oktoberfest Celebration!
Summer's' bounty (and some great brews and food truck fare) are just waiting for you here at Turkey Hill, so stop by and enjoy!