You can cut down your own Christmas tree at 4 Christmas Tree Farms near Bloomsburg in North Central Pennsylvania. When you find the perfect holiday tree, you can choose to cut your own with a hand saw or let the tree farm do it for you. When it's cut, they'll shake, drill and bail your tree, too! Most tree farms also have pre-cut trees and holiday items such as their wreaths, swags, and décor. Cookies and hot chocolate are served, of course! It's one of the best things to do during a weekend getaway this holiday season.
You'll find different kinds of live Christmas trees grown on these 4 Pennsylvania tree farms: Fraser Fir with soft, emerald green needles, Douglas Fir with lush, blue-green foliage, Blue Spruce with silvery blue foliage, and Concolor Fir with soft, silvery-blue needles and a citrusy aroma.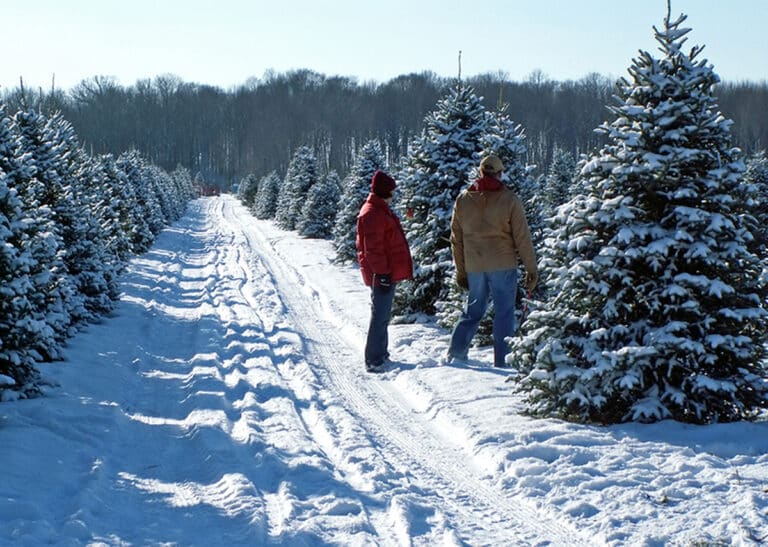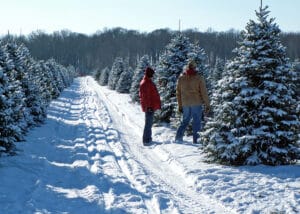 Ecology III Christmas Tree Farm in Orangeville, PA has three different kinds of trees. They have a limited number of Fraser Fir and a large selection of Blue Spruce for cutting, as well as fresh, pre-cut Fraser and Concolor Fir. Trees range from 5 – 15 feet tall, and cost from $20 – $70+. They open for the holiday season Friday, November 29, 2019, and will be open Fridays, Saturdays and Sundays from 9 am – 5 pm.
Bloomsburg Christmas Tree Farm gives you the choice of Fraser Firs ($7 per foot) or Douglas Firs ($5 per foot). They also have fresh wreaths, log snowmen, owls, reindeer and more. The tree farm opens Friday, November 22, 2019, and will be open Fridays, Saturdays and Sundays from 8 am -5 pm.
Ponduce Farms in Elysburg, PA, specializes in Fraser Firs and Douglas Firs for you to cut. Most Fraser Firs are $35, those 9 feet and over are $45. Douglas Firs are $25, those 9 feet and over are $35. You can have a free hayride to the Christmas tree field to pick out your tree, and there are free pictures, too! Ponduce Farms also has fresh pre-cut Douglas, Fraser, Blue Spruce, and Concolor trees, as well as swags and wreaths. Their Wreath Barn Gift Shop features gift items and holiday décor. The tree farm is open Wednesdays–Sundays from 8 am–7 pm.
Kohl's Stony Creek Tree Farm in Milton, PA, has all four varieties of live Christmas trees from which to choose: Douglas Fir, Frasier Fir, Concolor Fir, and Blue Spruce, plus wreaths, greens, centerpieces, and more. Trees vary in height from under 4 feet to 10 feet and cost from about $20 – $55. Tree sales begin November 7, 2019. Their Christmas Shoppe stocks over 100,000 ornaments and is open Mondays – Saturdays from 8 am – 8 pm, and Sundays from 9 am – 6 pm. Open House will be November 29 – December 1, 2019.
We know there's a special Christmas tree at a tree farm near Bloomsburg that's just waiting to decorate your home this holiday season. All 4 tree farms are within a half hour's drive from The Inn, Farmhouse, and Brewing Co. at Turkey Hill, so make the fun of choosing a freshly cut Christmas Tree part of your holiday season getaway this year. The holidays are almost here, so let us help you start celebrating! Just give us a call at 570-387-1500, or go online to make your reservation.
Header image by chuttersnap on UnSplash