Greetings from your Innkeeper at The Inn, Farmhouse and Brewing Company at Turkey Hill! We want to give you an update on Pennsylvania's reopening status and, more specifically, our region as it relates to COVID-19. Pennsylvania has a three-phase reopening strategy. As of June 26, 66 of Pennsylvania's 67 counties will be in Phase 3 (Green), the final phase of reopening, including our region!
We realize that after months of quarantine, many of us are chomping at the bit to get away for some relaxation, and to enjoy an environment that in no way resembles the four walls we've become accustomed to. Our focus is to help you achieve your goal of renewing and refreshing your spirit and energy in a safe and responsible manner. Your stay should be safe, enjoyable, and a truly relaxing respite from the stresses of everyday life.
**Please note that policies and procedures may be altered at any time due to the frequent and ongoing changes of our current environment. We ask that our guests be patient as we are diligently navigating our way through this trying time. Our primary concern is keeping our guests and staff safe!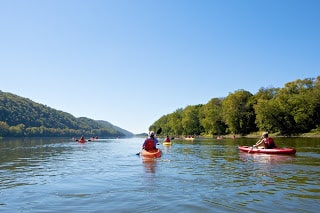 Our hotel is open and accepting new reservations
Our front desk is staffed, but with limited hours; our check-in time is after 4pm. We continue to monitor the advice and direction of the CDC and the Pennsylvania Department of Health. Below we have highlighted some details, policies, and procedures so that you can feel confident to travel and stay with us:
Stay Small, Stay Safe: Our belief is that staying "small" is staying "safe," and we are doing our utmost to ensure your peace of mind. One of the best things about staying at an inn like Turkey Hill is our size; because we are small, you will not encounter crowds as you might at a typical large hotel. Our property's unique design allows us to maximize the space available for each of our guests, since the majority of our rooms have exterior entrances, eliminating narrow hallways or closed-in common spaces.
Cleanliness: Our already high standards for cleanliness and hygiene have been enhanced even further in accordance with current CDC guidelines, including our guest rooms, common areas, and dining establishments. Comprehensive COVID-19 guidance is in place, including frequent cleaning of high-touch areas; increased cleaning of restrooms and public areas as well as housekeeping service are available upon request or at checkout only; all staff, including in our restaurants, wear masks when interacting with guests, and we ask that guests do the same when in common areas; hand sanitizer is present in all common areas including our dining establishments.
Dining: We are extremely fortunate to have the luxury of not one, but two dining establishments for your culinary pleasure. Guests who enjoy a fine dining experience now can avail themselves of the exquisite offerings at our Farmhouse Restaurant. Imagine starting your meal with Beer Braised Mussels, Crab Cakes, and other appetizers, followed by a main course of Seared Sesame Ahi Tuna Salad, our Farmhouse Burger, succulent Pittsburgh Filet Mignon, Salmon Balsamico, or Grilled Herb Chicken, among other entrees. Our Brewery features a large selection of craft-brewed ales, lagers, IPAs and stouts, as well as a diverse informal dining menu featuring locally sourced, high-quality produce and meats. Your options for dining with us during your stay are:

Room Service provided by The Farmhouse Restaurant.
Take-Out from The Farmhouse.
Reservation-Only Dine-In at The Farmhouse with limited indoor/outdoor seatings. *Due to occupancy limitations we may not have dining reservations available for guests inquiring at check-in. If Farmhouse Dining is a must for you, please reserve your table at the time you book your room by calling (570) 387-1500.*
Indoor dining as well as take-out service is available at our Brewery; reservations are not accepted. For more information, call the Brewery directly at (570) 387-8422.
In addition, we provide all inn guests our complimentary hot breakfast every day, which you can enjoy inside or outside the Farmhouse, or as take-out to be enjoyed in your guest room.
If you've been searching for a quiet and relaxing oasis just off the highway in the Berwick, Danville, or Bloomsburg PA area, now you've found it: The Inn, Farmhouse & Brewing Co. at Turkey Hill. Call (570) 387-1500 to reserve your room or book online today. And please don't hesitate to contact us if you have any questions.