Yes indeed, fall has arrived in Pennsylvania! Along with the marvelous color palette in store, lots of fall fun awaits including traditional pumpkin patches, corn mazes and hayrides! Here are 5 fall activities near Bloomsburg, PA, that you can easily enjoy during your stay at The Inn at Turkey Hill.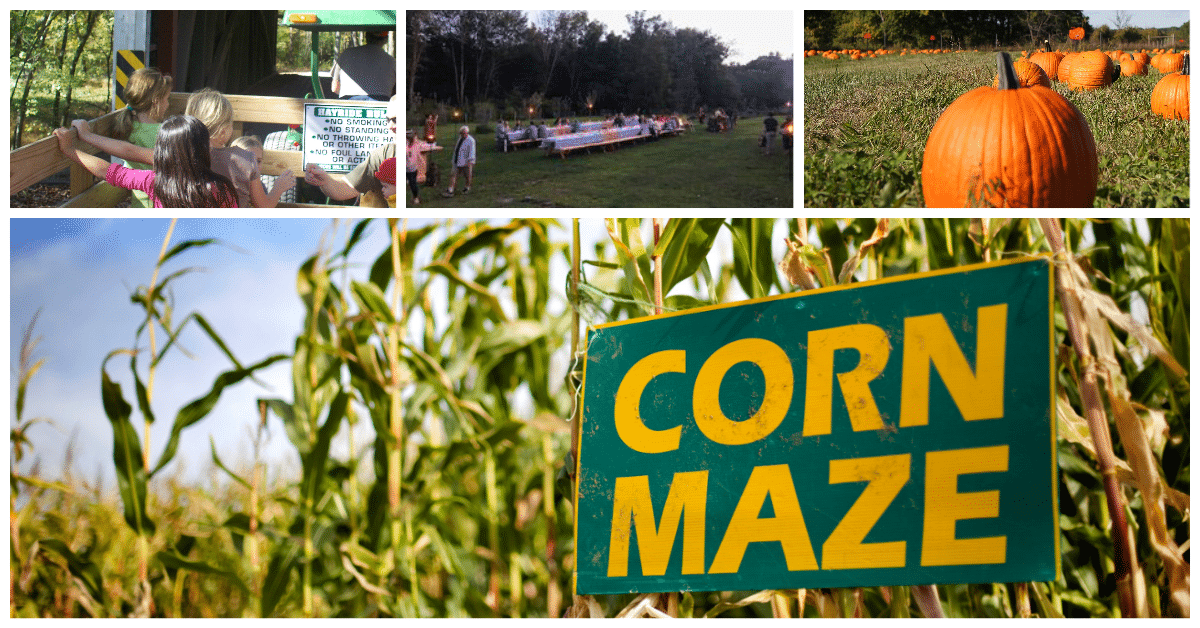 Kohls Stony Hill Tree Farm Corn Maze and Pumpkin Patch:
Now through November 4, 2020
Tickets are required for the Corn Maze – purchase online here. The 2020 Corn Maze theme salutes local fire fighters with the image of a fire truck. Finding your way through the maze is a fun fall activity for all. At the Pumpkin Patch, you can pick great pumpkins and also have fun with the Corn Cannon and Pumpkin Chunkin. The Corn Cannon shoots ½ ears of corn at talking targets, or you can pick up a giant slingshot to hurl pumpkins at the talking targets. Contact Kohls for details 570-204-2995.
Golf For Victory at Eagles Mere Country Club:
September 9 – October 23 (ongoing)
A special fundraiser to benefit Camp Victory, a "special camp for special kids" which provides overnight camping experiences for children who live with chronic health disadvantages. Purchase a voucher by September 25 for 18 holes of golf at the beautiful Eagles Mere Country Club, a cart, a $20 voucher for the clubhouse, a $10 voucher to spend in the golf shop and a two-ball sleeve of Camp Victory golf balls! Tee times available anytime after 11:00 am. To purchase a voucher and support Camp Victory, call 570-485-6530.
Rohrbach's Farm Market-Corn Maze Open and Pick Your Own Pumpkins:
Saturday, September 19 from 11:00 am – 7:00 pm
Friday, September 25 from 3-7:00 pm
Rohrbach's is featuring fall décor including pumpkins, gourds, corn stalks and more. Enjoy Rohrbach's apple dumplings, pumpkin roll and seasonal delights with apples, apple cider and apple cider slushies! Pumpkin season kicks off with half-price corn maze admission for first responders/law enforcement and their families. Up to four guests and/or family members will receive half-price admission with one ID of a first responder and law enforcement professional. Check their website for current regulation updates and more event details for the day.
TL & KJ at Cherokee Tap Room, Danville, PA:
September 19 from 8:30-10:30 pm
TL & KJ is the musical duo of KJ Reimensnyder-Wagner and Tim Latshaw. KJ is a full-time touring singer-songwriter. She has performed across the United States and in the UK. Tim Latshaw has been playing music in front of audiences for over 40 years. He was the founding member of the popular Central PA band, Lightswitch.
Sunday Suppers In September:
Sunday, September 13, 20, 27 from 5:30 – 8:00 pm at Blind Pig Farm in Benton.
Socially-distanced evenings for three Sundays in September featuring great food from Bloomsburg's renowned farm-to-table restaurant, Blind Pig Kitchen, and great performances from members of the Bloomsburg Theatre Ensemble. Tickets are $75 per diner and meals feature chicken, pork, or vegetarian dishes. Diners are encouraged to BYOB. Seating is strictly limited to 20 diners at 10 socially-distanced two-person tables. Single diners will be seated alone. Groups of four may be seated at tables near one another, please call 570-784-2656 to make arrangements.
Our Turkey Hill complex gives you the best of all worlds: great "socially-distanced" vacation/staycation lodging with the comforts of a B&B, fine and informal dining options, on-site Brew Pub/Brewery plus the amenities of a hotel. We also provide all inn guests with our complimentary hot breakfast every day, which you can enjoy as a dine-in inside or outside, or as a take-away to be enjoyed within your room. Call (570) 387-1500 to reserve your room, or book online today. And please don't hesitate to contact us if you have any questions.