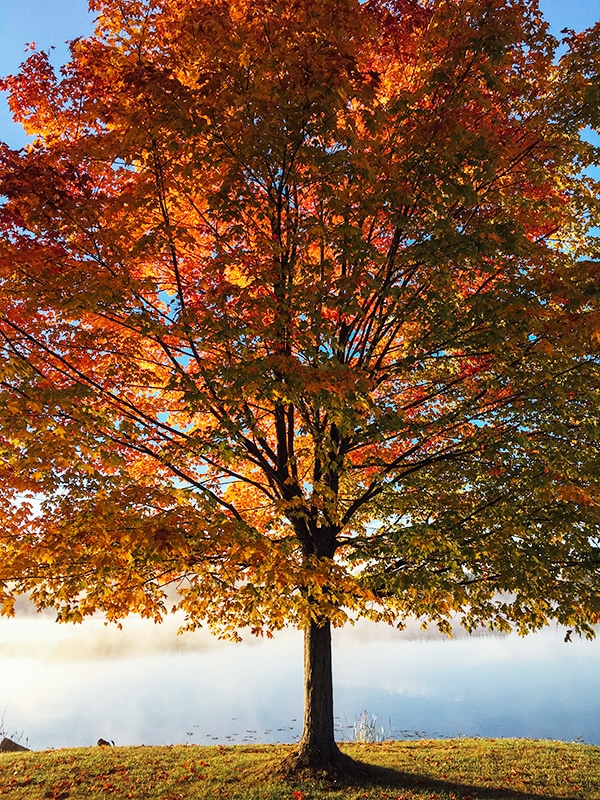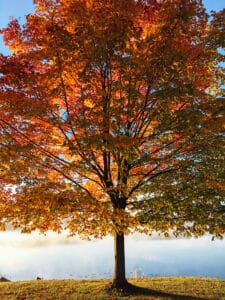 October is the best month for scenic fall foliage drives in Central Pennsylvania. According to the Department of Conservation and Natural Resources (DCNR), Pennsylvania's forests appear poised to deliver a great fall foliage season in 2019! These 3 scenic drives from your hotel in Bloomsburg, PA go to State Forests and State Parks. On these foliage tours you'll enjoy scenic views with Pennsylvania's brilliant fall colors, some of the best hiking trails, the crisp fall air, and stop for a picnic.
Pennsylvania boasts a longer and more varied fall foliage season than any other state in the nation. More than 130 species of trees with red, orange, and yellow leaves dominate the foliage hues. Foliage colors spread gradually, first appearing both at higher elevations and in low swampy areas. In Central Pennsylvania near Bloomsburg, peak fall foliage usually occurs in mid-October, from about October 10 – 20.
As October begins, DCNR first weekly foliage report indicates early color among black gum, maples, birches, poplars, sumacs, dogwoods and sassafras. Near The Inn, Farmhouse, and Brewing Co. at Turkey Hill in Bloomsburg, PA, you can see early fall color at Bald Eagle State Forest, where black gum and red maples have started to turn red. At Loyalsock State Forest, red and sugar maples are showing early touches of red, orange, and yellow.
Foliage Drive and Hike #1: Susquehanna River Valley, Seven Mountains, Bald Eagle State Forest
From the Inn in Bloomsburg, drive to Danville, then follow Route 11 and Route 15 to Selinsgrove.
From Selinsgrove, continue on Route 15 to Duncannon to see colors along the Susquehanna River.
Route 322 from Duncannon to Lewistown and Milroy highlights the changing fall colors in higher elevations. One of the best overlooks is at Laurel Creek Reservoir, as you climb over the Seven Mountains, a few miles from Milroy.
Then choose one of the many alternate routes through Bald Eagle State Forest, based on any of the many hiking trails you wish to take. The Forest spans across the high, sharp ridges of central Pennsylvania and features miles of pristine mountain streams and tracts of old growth forest. Hikes vary in difficulty (easy to difficult) and length.
Return to Bloomsburg via Mifflinburg and Lewisburg, then on to Bloomsburg.
Driving time and distance: 4 hours, 200 miles.
Foliage Drive and Hike #2: Susquehanna River Valley, Loyalsock Canyon Vista, World's End State Park
From the Inn, follow Route 487 South to Route 61 to Shamokin.
Follow Route 225 to Trevorton, then Route 3006 to its junction with 147 just north of Herndon.
Drive north on Route 147, along the eastern shore of the Susquehanna River.
Follow the river valley to Montandon, where you can continue on Route 405, Route 220, and then Route 3009 to World's End State Park, in the valley of Loyalsock Creek.
There, ADA accessible Loyalsock Canyon Vista provides outstanding views, especially during fall foliage season.
Hiking trails at Worlds End State Park are challenging with steep places that climb the surrounding mountains. Canyon Vista Trail is a 4 mile loop trail that is rated as more difficult hiking with steep sections.
Return to Bloomsburg via Route 154 and 42, perhaps making a stop at the charming Victorian village of Eagles Mere. The town boasts 3 museums: Eagles Mere Museum, Eagles Mere Auto Museum, and Eagles Mere Air Museum.
Driving time and distance: 3 3/4 hours, 160 miles.
Foliage Drive and Hike #3: Loyalsock State Forest and Ricketts Glen State Park
From the Inn in Bloomsburg, follow Route 42 north to its junction with Route 220 at Beech Glen.
Then take Route 220 through Loyalsock State Forest to Dushore.
At Dushore, turn south on Route 487 to reach Ricketts Glen State Park and its many hiking trails.
At Ricketts Glen, you can stop at Lake Jean for views of fall foliage across the water and a picnic.
Hikers can choose a short hike like the one to Adams Falls, or a longer one along the Falls Trail.
Route 487 will take you back to Bloomsburg.
Driving time and distance: 2 ¼ hours, 100 miles.
At this time of year, there's no better way to end your day of foliage touring than coming back to relax in one of the Inn's rooms with a two-person whirlpool tub and gas fireplace, then grabbing a beer (or two) and a casual dinner at our Turkey Hill Brewing Company Pub and Grille. It's a wonderful time of year to treat yourself to a 'midweek sneak-away' instead of a weekend getaway! Foliage season brings lots of visitors to Central Pennsylvania, so don't wait to give us a call at 570-387-1500 or go online to book your stay at the Inn. Remember to pack your hiking boots, picnic basket, and camera!