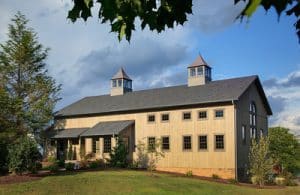 We are excited to celebrate our 10 year anniversary at the Turkey Hill Brew Company, just as PA lifts some of the COVID restrictions! Several extra tables have been added, but serving is on a first come basis – no reservations, and no groups of more than 10 people.
It is hard to believe that the idea for the brewpub came from the current Innkeeper, Andrew Pruden's grandfather–more than 50 years ago. The bank barn at the back of the property was considered a perfect site for the project.
What is a bank barn? It is a type of barn with access to both upper and lower floors from ground level, because it is built into a hillside. After much planning, work began in 2009 to refurbish the old barn on the property. Stable doors were removed to become table tops; original wood flooring was removed to be planed and returned.
After everything usable was stripped from the barn, and renovations were about to begin….a freak wind storm, with gusts up to 65 mph hit the structure in May 2010, causing it to collapse in on itself! All of the plans had to be re-done, and decisions made. Should the structure still be a barn? It was back to square one!
Luckily, a skilled local Amish construction company was able to build a barn (not a building that looked like a barn) in short order–and this is the building that now houses the Turkey Hill Brewing Company. Current visitors think that this building has been here for much longer than 10 years!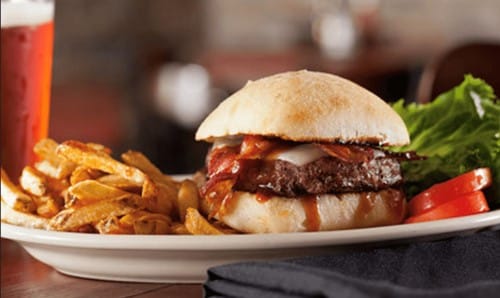 Meanwhile, Andrew just happened to meet a skilled home brewer, who then became Turkey Hill's brew master. Ten years later, we have more than a dozen different brews on tap–from ales and pilsner to stouts and sour. There is something for every taste either on draft or in cans and bottles. Bring your growler to fill, or come and enjoy a brew at the bar.
You no longer have to purchase a meal to enjoy your beverage. However, we pride ourselves on providing excellent food and service. As the weather warms up, there is plenty of seating outside. Read our reviews!
The easy access to the interstate has made the Inn at Turkey Hill a popular destination for travelers, and for anyone who loves great food and brews. Make a reservation today!