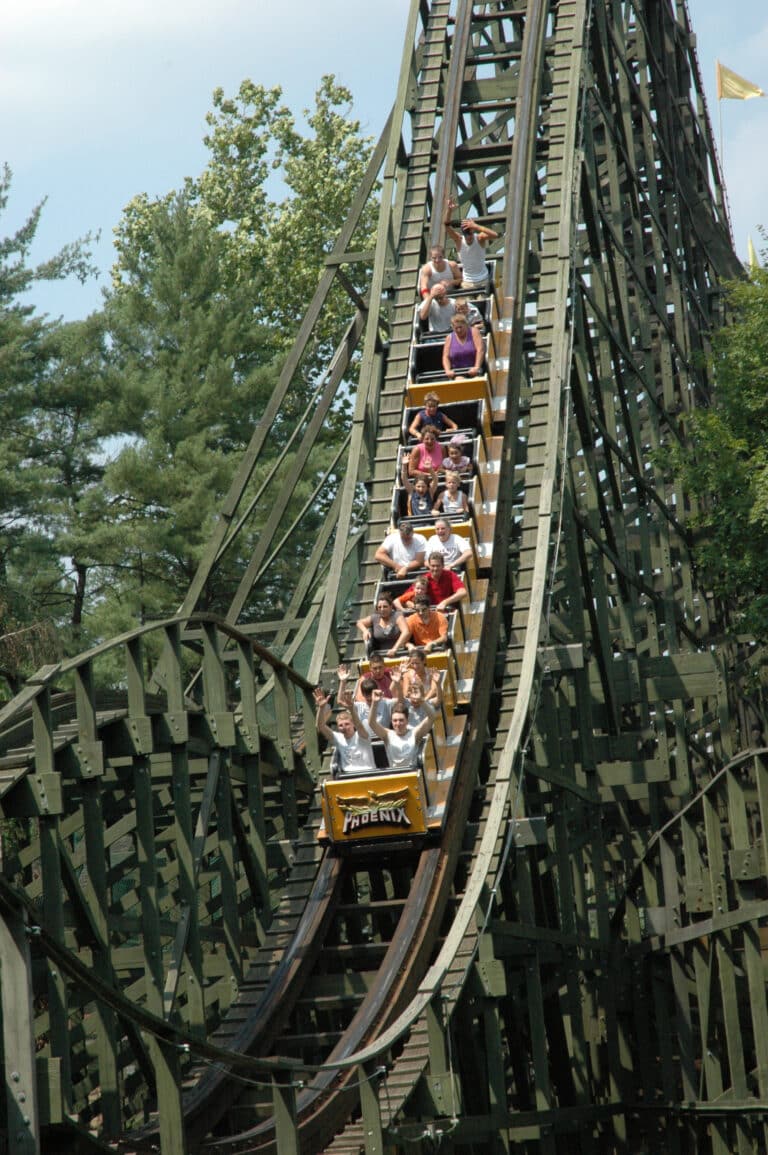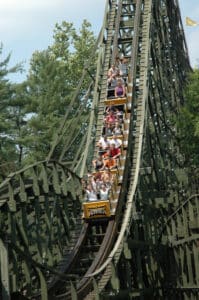 Knoebels Amusement Resort, largest free-admission amusement park in the U.S., is located in Elysburg, PA, just 15 miles from The Inn, Farmhouse, and Brewing Co. at Turkey Hill, our hotel in Bloomsburg. This award-winning park offers not just free admission, but also free parking, free daily entertainment and free picnic facilities!
Knoebels offers you 21 thrill rides, 19 family rides, and 23 children's rides, plus Midway games for all ages. Visit the Playland and Roaring Creek Arcades, the XD Theater for their 4D motion ride experience, play Lazer Tag or Lazer Maze, Fascination, or Mini Golf. You can cool off in the Crystal Pool with its waterslides and play areas, indulge in the foods you enjoy at fairs and carnivals, and browse for souvenirs in different gift shops. Free attractions include Knoebels Carousel Museum, History Museum, Mining Museum, Americana, Time Machine Theatre, Kozmo's Play Area, and a Bald Eagle Habitat. Golfers, Knoebels has its own Three Ponds Golf Course nearby.
You can "make new memories the old fashioned way" on a vintage roller coaster and vintage carousel. The Phoenix, a wooden coaster built by Philadelphia Toboggan Coasters, Inc., was originally in use at Playland Park in San Antonio, Texas, from 1948-1980. The 78 foot tall double out and back layout with a 72 foot drop has thrilled Knoebels visitors since 1985. Visitors can take a spin on the century-old Grand Carousel with hand-carved horses and carriages, organ music, and try to grab the genuine brass ring. For 21st century thrills, the steel track Impulse Coaster has a speed of 55 miles per hour, a 90° free fall drop, 540° helix, vertical loop, and heartline roll.
Knoebels is a regular winner of Golden Ticket Awards, presented each year by Amusement Today to honor the "Best of the Best" among amusement and water parks in 23 different categories. In 2018, Knoebels won three of these categories: Best Wooden Coaster, Best Carousel, and Best Food. It ranks #6 of the 40 all-time winners including winning Best Food 15 times and Best Carousel 14 times!
Knoebels Opening Weekend for the 2019 season is April 27-28, 2019, from noon to 6 pm. Opening Weekend is BOGO: Buy one ride-all-day pass and get one free (of equal or less value) to use the same day! Throughout April, May, and September, Knoebels offers special Pre-Season and Post-Season All-Day Rates. They offer Ride All Day and Sunset Special rates on weekdays throughout the summer season. Visit their website for detailed information, the entertainment calendar, and the complete list of rates for rides, attractions, the Crystal Pool, and Golf.
Bloomsburg is a perfect location for a fun-filled spring or summer getaway. In addition to Knoebels Amusement Resort, you can enjoy hikes, swimming, and boating at Ricketts Glen State Park, canoeing or kayaking on the Susquehanna, horseback riding, or just relaxing in our gazebo at the Inn. It's time to make plans for your vacation in Northeastern Pennsylvania. Just give us a call at (570) 387-1500 or go online to reserve your stay at the Inn!
Knoebels Amusement Resort
Location: 391 Knoebels Boulevard, Route 487, Elysburg, PA
Phone: 800-487-4386
Images of The Phoenix courtesy of the Columbia Montour Visitors Bureau