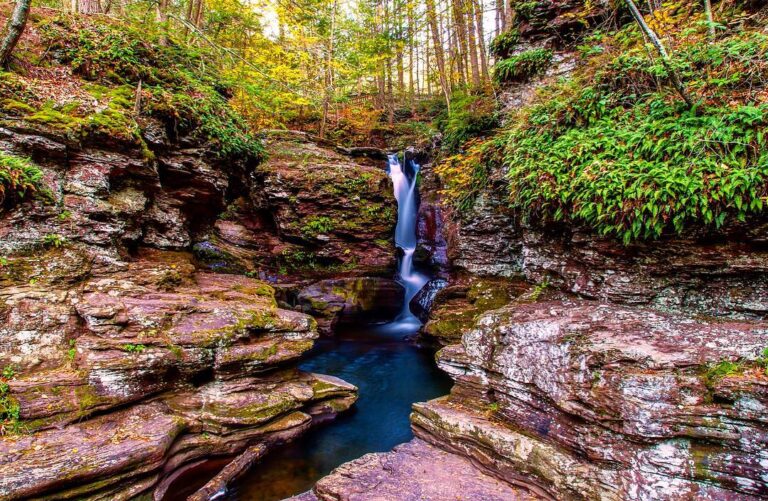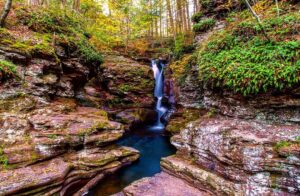 In Ricketts Glen State Park, Adams Falls, perhaps one of the most scenic waterfalls in Pennsylvania, is the most easily accessible of the Park's 23 waterfalls. Adams Falls is only a few hundred yards along the Evergreen Trail, an easy 0.9 mile loop trail. The Evergreen Trail and Adams Falls are about 25 miles north of The Inn, Farmhouse, and Brewing Co. at Turkey Hill in Bloomsburg, PA – an easy 35 minute drive. There's plenty more to explore in the Park as well, from other hiking trails to picnic areas to boating, swimming, and fishing at Lake Jean.
Ricketts Glen State Park harbors the Glens Natural Area — a National Natural Landmark. All of the waterfalls, including Adams Falls, are part of the Kitchen Creek system. The 35 foot total drop for Adams Falls is broken into two sections. The first drops 15-20 feet through a narrow chute to a pool carved in the rocks; a second drops into a larger pool via two different chutes. Although the lower falls can be seen from above, some hikers suggest the best view is from the far bank of Kitchen Creek downstream of the falls, which requires wading across the creek.
A short distance upstream from Adams Falls is Kitchen Creek Falls, the smallest named waterfall in the Park. The scenic Evergreen Trail continues its ecological loop through an area of old growth forest that is more than 500 years old, and is a good area for bird watching.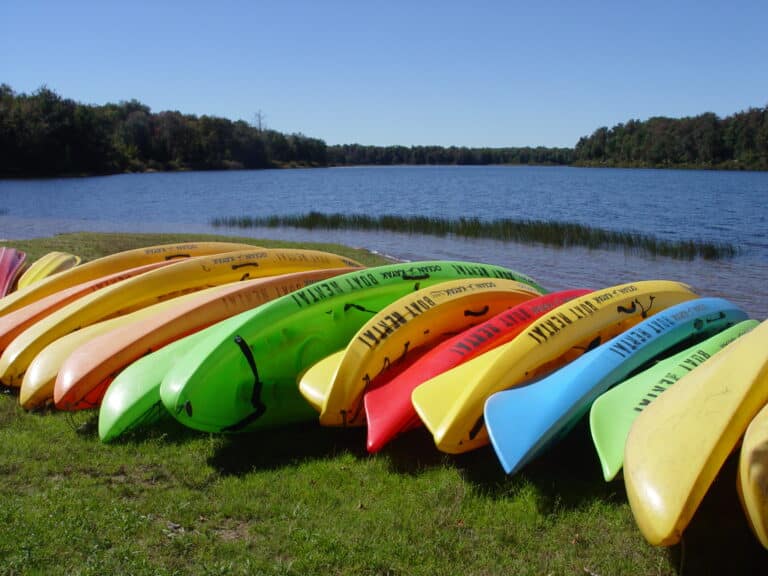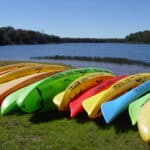 Another great place to enjoy summertime recreational opportunities in Ricketts Glen State Park is Lake Jean. You can rent kayaks, a canoe, paddle boat or rowboat to explore the lake. For fishermen, it's stocked with warm water game fish, pan fish, and trout. There are picnic areas around the lake, an easy 0.8 mile Beach Trail following the lake shore, and a beach that is open for swimming from late May until mid-September.
You'll find lots of ways to make a splash near Bloomsburg this summer, from rivers and lakes to waterfalls and swimming holes. At the end of the day's outdoor adventures, you can look forward to relaxing at the quiet oasis of the Inn and perhaps sipping a cool brew like A Mid Summers Night Saison in our Turkey Hill Brewing Company Pub & Grille.
Adams Falls Photo by @mikeykeller79 courtesy of Columbia Montour Visitors Bureau
Lake Jean photo courtesy of Columbia Montour Visitors Bureau