Looking for a place to take your student for a special meal, or your sweetie for a night out in downtown Bloomsburg? Make a reservation at Seasons On Main. (Or ask our Front Desk Staff, they'll be happy to do it for you!)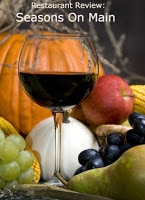 The restaurant is the brainchild of Bucks County native, Gary Vadakin. Since his early days bussing tables in restaurants, Chef Gary has dreamed of owning his own place. A little over two years ago, he fulfilled his dream with the opening of Seasons On Main.
Soft caramel-colored walls, tablecloths and candles create a comfortably elegant atmosphere, where guests can relax as they savor the restaurant's delicious cuisine. For its menu, Seasons On Main strives to source local ingredients, tapping area farmers and businesses for produce, meats and fresh baked goods.
Under the creative direction of Chef Gary, the kitchen turns these ingredients into delectable dishes, starting with appetizers such as a wild mushroom trio sauté or Chilean blue mussels saffron. Mixed green salad, one of several salads on the menu, gets a tasty addition of roasted pumpkin, tomatoes, cucumbers and cinnamon-maple vinaigrette. The entree list is not extensive, but offers a nice selection of fish and seafood, meat and poultry, with treatments that celebrate autumn. Two savory examples: molasses and walnut crusted wild salmon with hints of cinnamon and clove and grilled venison served with wild mushrooms and a merlot wine sauce.
Desserts are equally inviting. Salted cheesecake and mini cupcakes, among two recent selections.
Seasons On Main
10 West Main Street, Bloomsburg
Tuesday – Saturday, 5:00 p.m. – 9:00 p.m.
570-336-2790
We encourage our guests to support our local Bloomsburg businesses. And we always love it when then come back "home" to share their stories with us. If you're thinking of a getaway this fall, give us a call. We'd love to have you visit!