Ever have one of those days when your muscles are tied in knots and your mind is going a mile a minute? That's when you might want to pay a visit to Bloomsburg's Art of Floating.

Photo courtesy of Art of Floating
The business is the largest float center on the East Coast, and it's tailor made to soothe muscles and quiet minds. Floating is the latest in well-being therapy, and once you try it, you'll see why.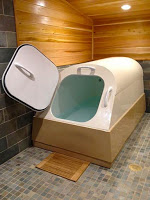 Photo courtesy of
Art of Floating
At Art of Flotation you'll be placed in a special flotation tank filled with nearly 1000 pounds of epsom salt, mixed with a shallow amount of water.
This provides a weightlessness that closely resembles being in space, helping soothe muscles and calm the mind. The tank is set at 93.5°, the same as the outside of the skin, which reduces stimulation to aid in relaxation. Built to minimize sound, the tank is also in a room designed to eliminate noise even more. If you're saying "aaah" about now, you're not alone!
Check out the Art of Floating website for a listing of all the benefits of floating, in addition to relaxation. If you'd like to combine a session of floating with a soothing massage, the staff will be happy to arrange it.
Art of Floating
1924 Old Berwick Road, Bloomsburg
Daily, 9:00 a.m. – 10:00 p.m. Other times, by appointment only
570-441-7399
For even more relaxation, be sure to check into one of our beautiful Inn guest rooms, where comfy beds and serene surroundings will have you sleeping like a baby!