Our Inn guests love to take advantage of the area's many outdoor attractions. Key among them is the beautiful Susquehanna River, and all it offers.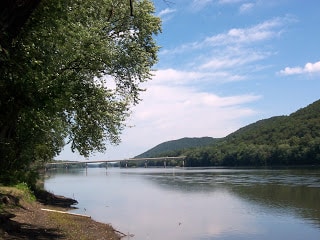 Photo courtesy of Columbia-Montour Visitors Bureau
At 464 miles long, the Susquehanna is the longest river on the east coast, passing through three states on its way from upstate New York to the Chesapeake Bay.
Its melodic name comes from a Delaware Indian word that means "Oyster River," a testament to the mollusk that is so prevalent in its waters.
The Susquehanna River is also the United States' longest river without any commercial river traffic. For locals and guests, that makes it a wonderful resource for recreation. In addition, the Susquehanna has many feeder rivers and streams that provide endless hours of enjoyment, no matter the season.
In winter, if you're a birder, you can hike along the river to discover resident waterfowl, as well as native birds, such as scarlet tanagers and black-capped chickadees. Once the snow comes, grab your snowshoes or cross-country skis and shush along the many paths that weave along or by the river. (Our Inn Staff will be happy to help you with good trails and directions.)
The Susquehanna is home to a wide range of fish, including bass, northern pike and walleye and for the avid angler, every season is fishing season! Come summer, the river is a favorite for boating, kayaking and canoeing. And year-round, you'll find that some of the most scenic drives of all are along the winding Susquehanna River.
Come stay at the Inn and explore the many wonders of our native waters.
By the way, some of those fresh waters are what make our Turkey Hill brews so tasty!