One thing all quilters know: no matter how good you are, there's always more to learn! For advocates who find themselves in our neck of the woods, the go-to shop for help is Girtie's Long Arm Quilting Services.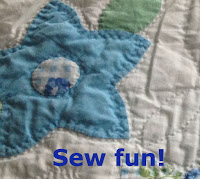 "Girtie" is Katherine Girton, a long-time quilter who is passionate about the craft. Knowing how difficult it was to finish a quilt on her home sewing machine, she started researching and discovered long-arm quilting. This technique utilizes a special machine with a head that moves across a large quilt—a great way to stich hard-to-reach center sections. Anxious to share her newfound knowledge and skill, she opened her studio to the public in 2013, and gathered talented friends to help her teach.
Today, Girtie's offers a variety of workshops, covering many different topics, including these two upcoming classes.
Venetian Tile Stack 'n Whack. Make a beautiful kaleidoscopic design with print fabrics.
Wednesday, February 10 and 17, 2016
9:00a.m. – 12:00 p.m.
Hanky Panky Crazy Quilt. Learn how to create a one-of-a-kind quilt using old hankies or heirloom linens.
Friday, February 18
9:30 a.m. – 2:00 p.m.
Check out the shop's website for further details, and to register, as well as a full listing of upcoming classes. You'll also find a great selection of quilting supplies.
Girtie's Long Arm Quilting Service
69 McDowell Hill Road, Bloomsburg, PA
570-380-9672
Tuesday – Friday, 10:00 a.m. – 6:00 p.m.
Monday and Saturday, by appointment only
Closed Sunday
Do you have a quilting group? The Inn makes a great place to gather. Just give us a call and we'll help you arrange it.