Going to Balzano's Italian Kitchen is like heading over to your Italian grandmother's for a comforting meal. With a menu that's filled with classic, hearty dishes, it's no wonder the restaurant is a go-to dining spot for both locals and visitors.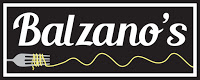 Logo courtesy of Balzano's Italian Kitchen
The family-owned business has been a Bloomsburg fixture for more than 15 years, and has built a reputation by staying true to its Italian roots. Its wide-ranging menu combines family recipes with chef-inspired ones, and changes with the seasons to take advantage of what's fresh in the market.
Homemade pastas, sauces and meatballs are the mainstays for many of the flavorful dishes. Starting with the appetizers, Balzano's tried-and-true menu offers a nice variety—a little something for every taste. Entrees, which come with a salad and bread, include classics such as chicken or veal Marsala, clams simmered in white wine and garlic, and eggplant Parmigiana. Italian specialties feature a variety of sauces and pastas, meat lasagna, and tasty gnocchi. Pizzas, stromboli and calzones round out the offerings.
If you have a sweet tooth, be sure to save room for one of Balzano's homemade desserts, such as silky tiramisu.
Feel like a pick-me-up after a day of shopping or touring? Stop by for Balzano's Happy Hour any Tuesdays through Fridays and try one of their "happitizers" with your cocktail.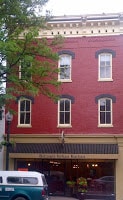 Photo courtesy of Balzano's Italian Kitchen
Balzano's Italian Kitchen
112 East Main Street, Bloomsburg, PA
Tuesday – Thursday, 11:00 a.m. – 9:00 p.m.
Friiday – Saturday, 11:00 a.m. – 12:00 p.m.
Sunday, 11:00 a.m. – 7:00 p.m.
Happy Hour, Tuesday – Friday, 4:00 p.m. – 6:00 p.m.
570-317-2704
Speaking of pick-me-ups, a night or two at the Inn would do wonders for the mid-winter blues!