For the town of Danville, PA, spring is worth celebrating, and that's just what they're doing this year at Spring Fling on Saturday, May 7, 2016.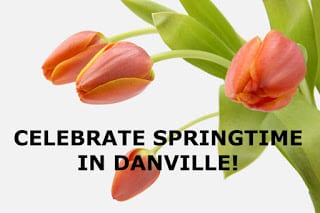 The annual fest is an all-day party that highlights the foods, sites and sounds that make Danville a distinctive river town. Downtown streets—Mill, East Mahoning, West Mahoning and Lower Mulberry—will be closed to traffic and filled with more than 200 vendors who, along with local businesses and organizations, give visitors and residents lots to enjoy. The event is free and there's free parking on nearby streets and surface lots. Shuttle service will be available. We're hoping for great weather, but even if it rains, the event will go on.
Spring Fling
Saturday, May 7, 2016
9:00 a.m. – 5:00 p.m.
Downtown Danville, PA
Free admission
570-284-4502
The fun day coincides with another annual tradition, the River Towns Half-Marathon. The race, which begins at 9:00 a.m., goes through some of the prettiest areas of the river valley, finishing at the Montour County Courthouse in Danville. That leaves plenty of time for participants to enjoy Spring Fling too. Registration is through May 1.
River Towns Half-Marathon
Saturday, May 7, 2016
Montour County Courthouse
29 Mill Street, Danville, PA
$65/adults, $30/ages 12-17
570-336-2060
Plan to stay with us at the Inn for the weekend and take in both the race and the Spring Fling. It's usually a busy weekend, so call now for your reservation!