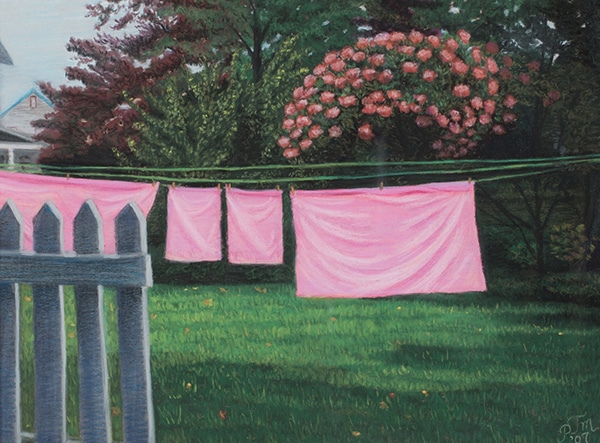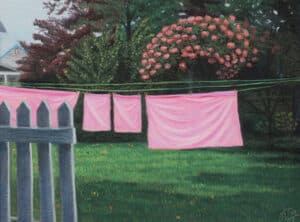 The Susquehanna River Arts Artists Show features ten artists from Bloomsburg and the surrounding area. Bucknell University's Weis Center for the Performing Arts, The Columbia-Montour Visitors Bureau and the Susquehanna River Arts initiative collaborated to present this free exhibit at the Weis Center in Lewisburg, PA, through Friday, May 25, 2018. Visitors are welcome in the Weis Center's upper atrium lobby from 8:30 am until 4:00 pm weekdays.
The Susquehanna River Arts initiative showcases Northeastern Pennsylvania's regional art scene "in the belief that art shapes both the spirit and vitality of a community". Following this exhibit, they will host their annual Open Studio Tour on June 3-4, 2018, at various studios in the area. Four of the ten artists whose works are displayed at the Weis Center are from Bloomsburg, while others have studios in Orangeville, Danville, Catawissa, Cambra, and Millville.
Gail "Annie" Barnhardt explores "faces and places" through her focus on painting, pencil drawings, lettering, and artist books. Her works reveal the unexpected art that can be created by marrying reality and abstraction.
Gail Fox is known for both her graphite drawings and jewelry that incorporates dimensions of the natural world. A favorite pastime is Plein air painting in the nearby Pennsylvania countryside.
Joan Gallup Grimord guides her work in the spirit of artists like Edward Gorey and Egan Schiele. She combines printmaking techniques and drawing with additional materials such as thread, beads, and minerals to create unique, sometimes moody pieces.
Peter Grimord's artistic talents include sculpture, photography, and drawing. His current focus is on his "first art", drawing, inspired by the high magnification images he creates through photography.
Robert Brown uses various traditional and contemporary photographic tools to create his fine photography. His subjects include natural abstractions, landscapes, historic architecture and cultural studies.
Glen Klein incorporates his imagination, sense of humor, and computer software experience into his photographic art. Some of his pieces are montages, while others transform digital photographs into the appearance of paintings or other hand-drawn designs.
William Whitmoyer, whose studio is in Millville, has a background as a graphic designer and illustrator. He uses his pencils and brushes as just some of the techniques to explore and expand his search for knowledge.
Pamela McHenry Thomas works in pastels as well as creative ways to express calligraphy as an art form. Her pastels invoke the nostalgia for a simpler life through their depiction of everyday places and objects. Other recent works combine photographic images with quotes or poetry in calligraphy.
Abigail Smith Kurecian is a ceramic artist from Orangeville. She refines the shapes and textures of the pieces she forms on her wheel through hand-altering techniques that evoke naturally-occurring erosion processes.
Sara Mika creates small, intricate works of textile art. She combines various quilting and embellishment techniques, often incorporating fabrics with hand painted designs.
This spring exhibit at the Weis Center will be followed by the Susquehanna River Arts' annual Open Studio Tour June 3-4, 2018, at their various studios throughout Columbia and Montour Counties in Northeastern Pennsylvania. For more information about the individual artists, visit the Meet the Susquehanna River Artists webpage.
Susquehanna River Arts Artists Show
Dates: April 3, 2018 – May 25, 2018 Times: 8:30 am – 4:00 pm weekdays
Location: Upper level of the atrium lobby in the Weis Center for the Performing Arts, 1 Dent Drive, Lewisburg, 17837
Phone: 570-784-8279
Admission: Free
NOTE: The Weis Center ground floor is fully accessible; however there is no elevator to the upper level.
Images courtesy of Columbia Montour Visitors Bureau