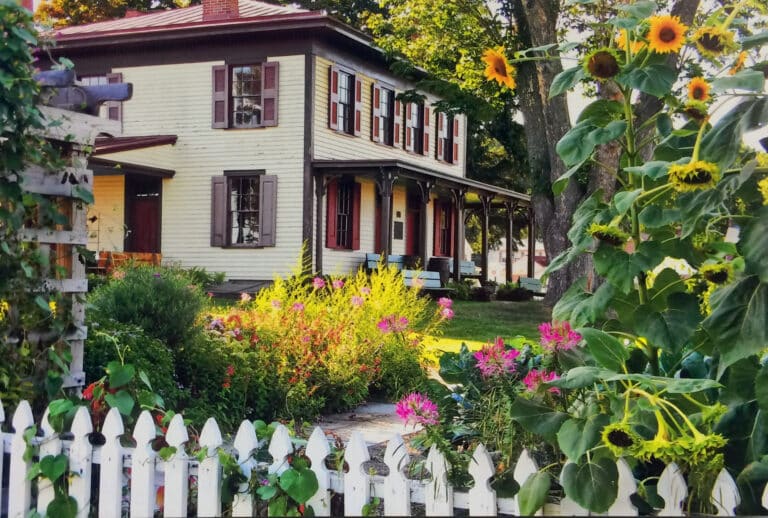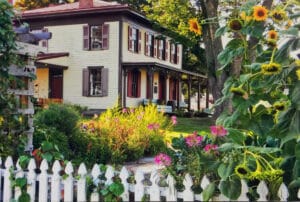 Plan to visit the Barton House Gardens during Bloomsburg Fair Week, September 21 – 29, 2018. Caleb Barton built his new home on what are now the Bloomsburg Fairgrounds in the same year the Fair was founded -1855. The historic Barton House gardens are extensive, including fruits, vegetables, herbs, and flowers that would have been grown in Northeastern Pennsylvania during the middle of the 19th century. The gardens, cared for by the Fishing Creek Herb Guild, are at their peak in late September, to coincide with the Fair.
During the Fair, guides will be present at the Barton House Gardens from 10:00 am – 6:00 pm daily to discuss the many different plants and their uses. Some of the plants like sunflowers, beebalm, swiss chard and scented geraniums are found in many gardens today. Other crops are heirloom varieties such the gooseberries, corn, scarlet runner beans, and the locally-named Catawissa onions. The herb garden features separate areas for medicinal, scented, and culinary herbs.
Visitors during the Fair will be invited to test their knowledge about different vegetables and scents in the garden, and can take home free morning glory and cleome seeds for their own gardens. They also can watch demonstrations of some of the tasks the Barton family would have been doing, from woodworking to preparing foods and making soap. Visitors also can listen to dulcimer music, and learn about Civil War physicians. A complete schedule of activities at the Baron House is available on the Bloomsburg Fair's website. A short video tour of the gardens is available online.
The original farmhouse at The Inn, Farmhouse, and Brewing Co. at Turkey Hill, built in 1839, was built even earlier than the Barton House. Unlike that historic home, however, our guests enjoy completely 21st century comforts and amenities. After your visit to the Barton House gardens and a busy day at the Fair, we invite you to enjoy dinner at the Inn, where we feature seasonal menus and local ingredients. You can choose the more formal, but still relaxed, Farmhouse Restaurant, or opt for more casual fare at our Turkey Hill Brewing Company Pub and Grille. The Bloomsburg Fair is the largest in Pennsylvania, so don't wait to make your room reservation for September!
Photos courtesy of Barton Historical Association Photo of sunflower by Asgeir Pall Jliusson on Unsplash