At The Inn, Farmhouse, and Brewing Co. at Turkey Hill, we love vintage decorations for Christmas! Christmas celebrations and decorations certainly have evolved since 1839, when our original farmhouse was built at Turkey Hill in Bloomsburg, PA. Many old-fashioned Christmas decorating ideas continue to be popular today. We'd like to share some of these vintage decorating tips and their history with you.
Christmas decorations during that first Christmas at Turkey Hill would have been very modest or absent. Celebrating Christmas didn't gain popularity until the mid-19th century, helped by the Victorian images of Dicken's "A Christmas Carol," reaching the U.S. in 1844. Decorating ideas became more elaborate over the next century, inspired by everything from Queen Victoria and Prince Albert's royal celebrations to the invention of electric Christmas lights. Fortunately, we still can use many vintage holiday decorating ideas at the Inn today.
According to Shelley Cathcart from Old Sturbridge Village, that first Christmas in 1839, there might have been at most a small table where a few toys surrounded a 'tree in a tub' with handmade decorations like gold stars and cornucopia. The Old Sturbridge Village website illustrates some typical decorations from those days. By the 1850s, the family at Turkey Hill might have decorated for Christmas with evergreen swags at windows and a more elaborate Christmas tree surrounded by presents on a table.
We continue the centuries-old tradition of decorating with greens –placing arrangements in vases and on windows, mantels, and even chandeliers.
After the Civil War, Christmas decorations evolved to resemble many of the vintage decorating ideas used today. Newspapers and photographs from the last decades of the 19th century illustrate tables, mantles, windows, doorways and stairways decorated with holly, ivy, ferns, and evergreens. Often, accents like ribbons, flowers, berries and gilded fruits and nuts were added to the fresh greenery. We have lots of mantels to decorate!
Dining tables often displayed holiday greens to complement the families' best china, silver, and linens.
It's easy to incorporate simple touches like greens and napkins folded into Christmas trees on your dinner table as we do on ours.
Here's how to fold the napkins.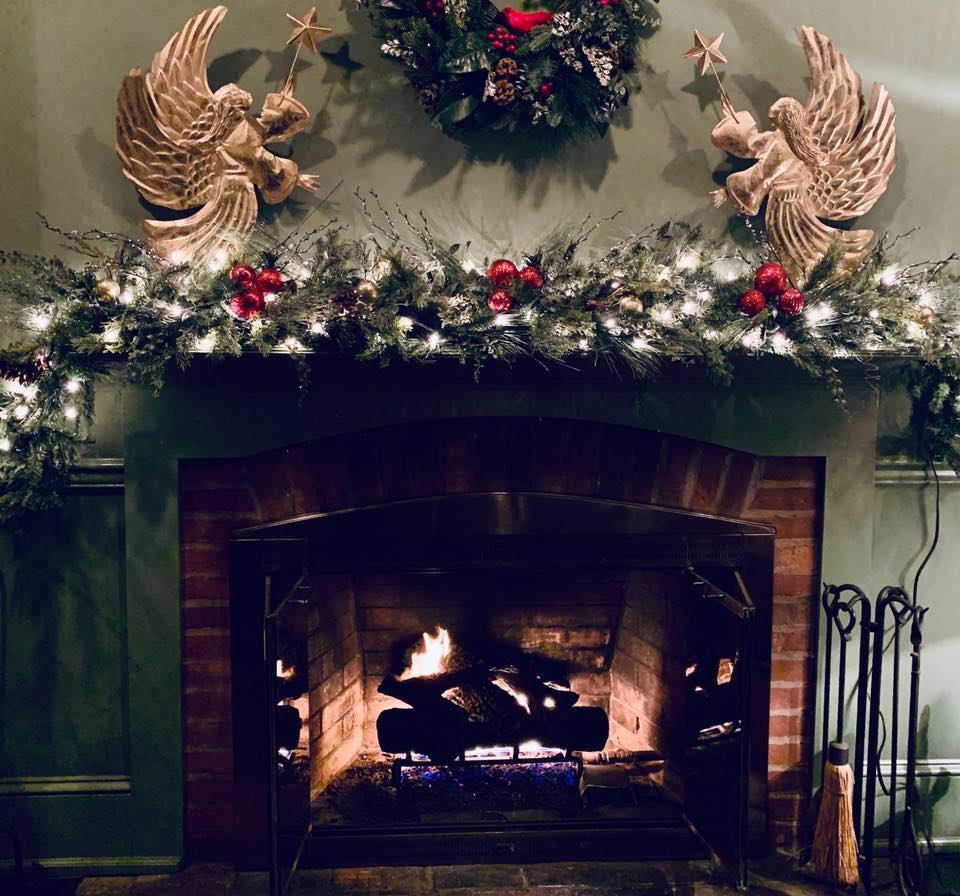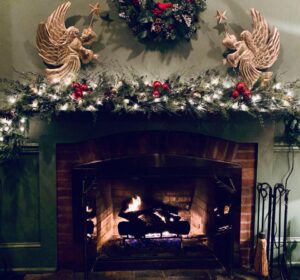 By the 1880s, many decorations could be purchased from department stores. Displaying these sometimes costly things often became traditions, used year after year during the holiday season. At the Inn, our guests will see familiar decorations that appear year after year – we just vary their surroundings and the way they are displayed. Decorations can seem fresh each year when you find different ways to use them.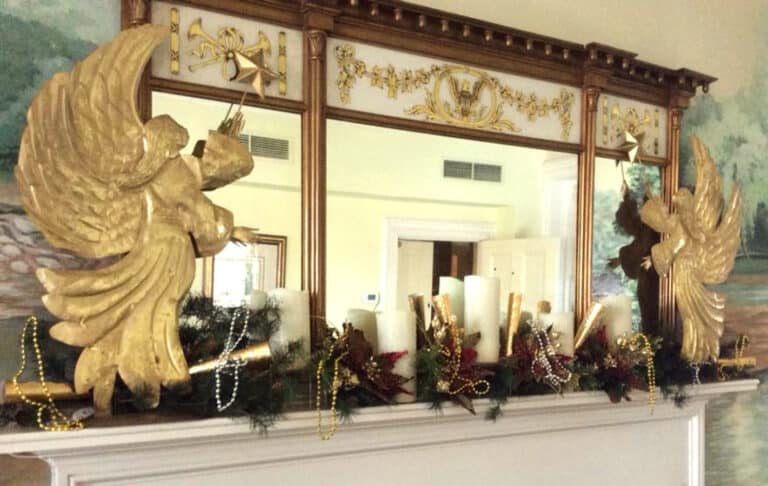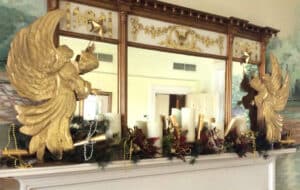 By the end of the 19th century, Christmas trees, often were lit with small candles, had become taller. Department stores had began importing elaborate glass Christmas tree ornaments made in Germany and Czechoslovakia. These ornaments adorned the trees in addition to traditional fruits, nuts, and handmade decorations. Tinsel might be used to reflect the lamp or candle light.

Decorating with candles in the 21st century can continue the warm glow that lit Christmas celebrations of centuries past.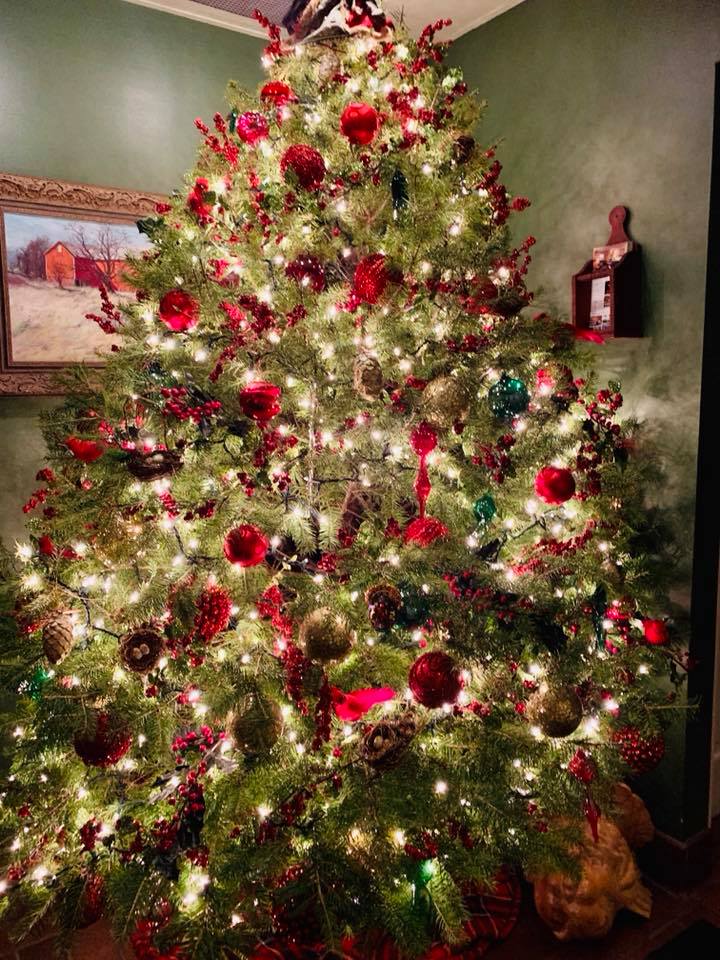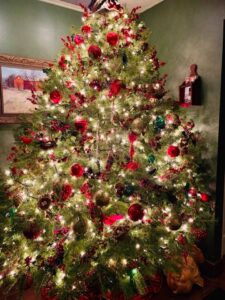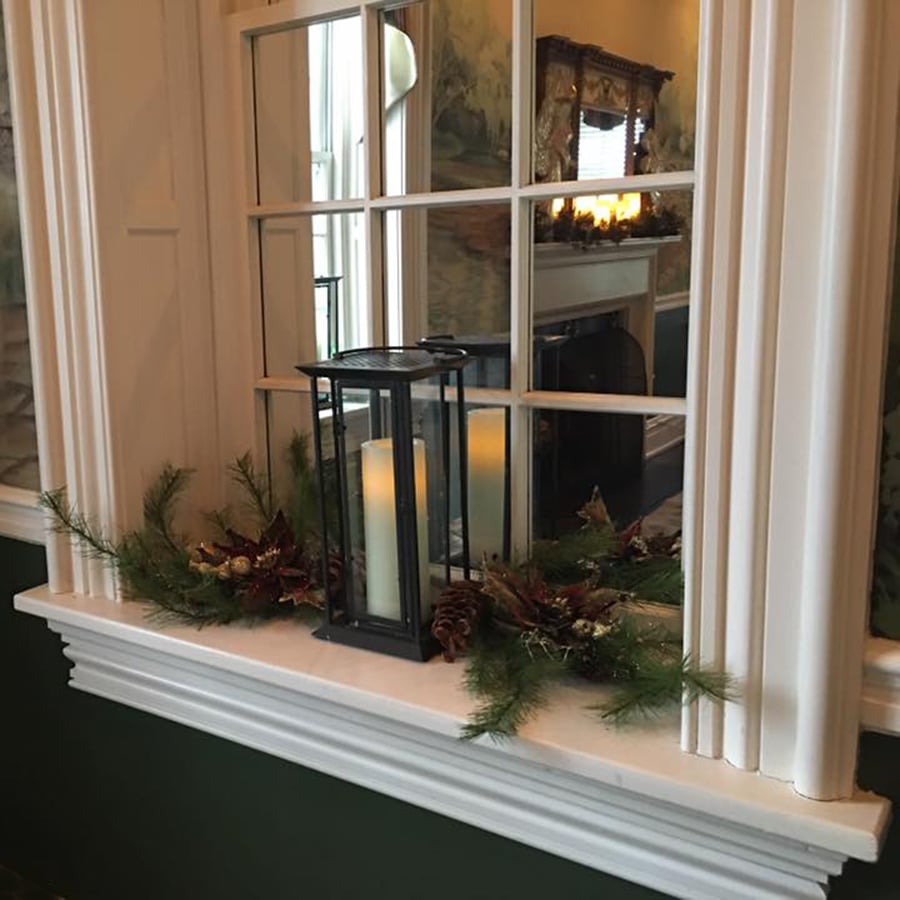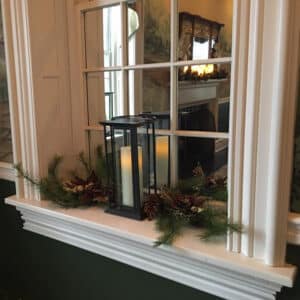 By the time the Eyerly family purchased the Inn farmhouse in 1942, Christmas trees sparkled with strings of electric lights, and American manufacturers were creating intricate ornaments in many different shapes and patterns. (Weller, 2019). Christmas trees continue to be the a focal point for celebrations, sometimes with ornaments that have been passed down from one generation to the next.
We're celebrating the 180th Christmas the Inn's original farmhouse has seen. Many traditions of Christmases past continue today. We hope these vintage decorating ideas like those seen here help create the nostalgia of old-fashioned holiday celebrations. We look forward to your next stay at the Inn, and hope your holiday decorations this year will help create treasured memories for Christmases yet to be.