The Inn at Turkey Hill hosted the first segment in their Chef's Culinary Series on September 15th 2013.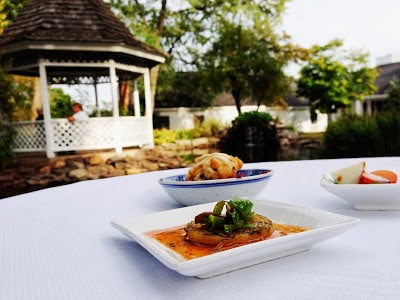 The Series featured Tewksbury Grace Farm with an emphasis on organic vegetables. Tewksbury Grace Farm is a local farm nestled in Muncy Hills and specializes in organic and unique produce. Owners John and Leah Tewksbury started the farm as a means to nourish themselves, but it has now evolved into an operation that supplies over thirty Community Supported Agriculture (CSA) members and several local restaurants, including The Inn at Turkey Hill.

Executive Chef Matthew Revak:
"Tewksbury Grace Farm provides diverse varieties of local organic produce. With each new week, comes unique and seasonal produce. I enjoy the challenge of incorporating these new ingredients and creating dishes that emphasize their uniqueness."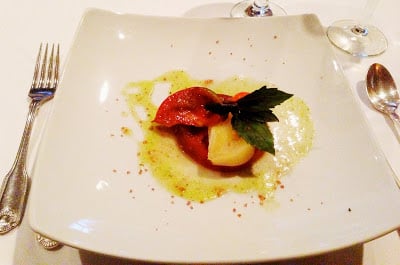 MenuAppetizer
Braised Kohlrabi with brunoise of fall vegetables
and white truffle emulsion
Wine: EPPA Super Fruit Organic Red Sangria
Soup
Organic garden vegetable made with an assortment of vegetables from the harvest
served with roasted garlic crostini
Wine: Montinore Estate Borealis 2011
Salad
Heirloom tomato salad with picked carrots and a
lemon grass vinaigrette, red Hawaiian salt
Wine: Montinore Pinot Gris 2011
Entree
Ratatouille Eggplant, golden beets, heirloom tomatoes,
peppers, herbs, summer squash, all prepared different
ways and finished with a tomato syrup and pesto oil
Wine: Montinore 2010 Reserve Pinot Noir
Dessert
Vanilla Rhubarb salad with honey ricotta fritters, black
cherry coullis, citrus panna cotta and black pepper tuile
Wine: Monitore Sweet Reserve Riesling 2011
The Inn at Turkey Hill will offer the Chef's Series on the second Sunday of every month. For information about dining at the Inn and reservations, please
visit our website
or call us at 570-387-1500.