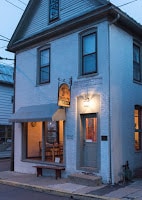 Photo courtesy of
The Blind Pig Kitchen
With Bloomsburg's laid-back, river-town demeanor, it's easy to forget how leading edge we can actually be. The Blind Pig Kitchen, located in an old building downtown, is a perfect example of that.
The restaurant's creators, Toby Diltz and Sarah Walzer, not only profess a locavore, sustainable philosophy, they live it. At their rural Benton, PA, homestead they grow berries, vegetables, mushrooms and herbs; and raise meat birds, laying hens, turkeys and heritage-breed hogs. They also rely on quality products from local producers for everything from grass-fed lamb and beef to fresh-cut flowers, seeking out those that are free from pesticides and chemical fertilizers. (As you can see, the area surrounding the Inn is a foodie mecca!) But it's not only the remarkable ingredients this team utilizes, it's what they do with them that makes The Blind Pig Kitchen's diners so happy.
Before you even enter the restaurant, you'll be charmed by its narrow brick façade, complete with awning and hanging pig sign. Inside, it's all cozy and warm with an abundance of woods, blackboard menus and vases of fresh flowers. Settle in and be prepared to be delighted.
It's hard to imagine better starters than one of the artisanal cheese or meat boards, or a veggie platter that includes deviled pickled eggs with smoked salmon.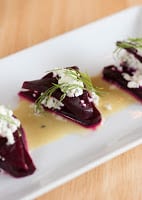 Photo courtesy of
The Blind Pig Kitchen
Salads are beautiful, as well as tasty compositions, such as one with leaf lettuce, beets, scallions and apples with a garlic vinaigrette. Entrees cover a wide range of tastes. Grilled grass-fed ribeye is served with bone marrow gravy, chicken breasts are oven-roasted and topped with a blueberry-basil pesto, heirloom tomatoes and shaved fennel accompany roasted rainbow trout, and cavatelli pasta is tossed with braised duck and squash. These are just a tasty sampling. There are also vegetarian options as well as creative sandwiches. If you've saved room for dessert, you can enjoy one of the restaurant's sweet seasonal offerings.
The restaurant does not have a liquor license, but guests are welcome to bring their own bottles or wine or beer. It currently accepts cash and check only. And due to using only fresh and local ingredients, the menu is subject to change based on availability.
The Blind Pig Restaurant
236 Iron Street, Bloomsburg
570-784-2656
Wednesday – Sunday, 5:00 p.m. – 9:00 p.m.
Now that summer is winding down, it's a great time to plan a stay at the Inn, and do your own foodie tour around the county. Give us a call!