We're so lucky to be living near such an acclaimed performance center! Not only do we love attending the wonderful Celebrity Artists Series every year, but we find our Inn guests thoroughly enjoy it too. Looking over the list of upcoming shows, we're all in for a treat.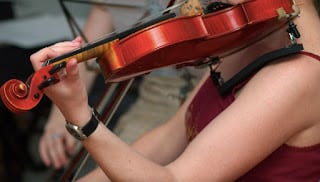 Bloomsburg University's Celebrity Artists Series, which includes Broadway plays, dance, classical music are performed in Mitrani Hall, a wonderful proscenium stage setting in the Haas Center for the Arts, or in the historic K.S. Gross Auditorium in Carver Hall. A complete listing of the fall season can be found on the website, but here are a few of the highlights.
Matt Haimovitz, Cellist. The Grammy-winning musician began his career at age 13 as a soloist with Zubin Mehta and now plays with top symphonies worldwide. He'll be performing Bach's beautiful Six Suites for Solo Cello.
Sunday, October 11, 2015
3:00 p.m.
Kenneth S. Gross Auditorium
Adults/$25, Children and BU students/$12
Bullets Over Broadway. Get ready for a fun evening. Written by Woody Allen, this musical tells the tale of a struggling young playwright who accepts an offer from a mobster, and all the hilarious mayhem that follows.
Sunday, October 25, 2015
8:00 p.m.
Mitrani Hall
Adults/$40, Children and BU students/$20
Ragtime. A Tony award-winning musical set at the dawn of the Twentieth Century, in which three disparate residents are joined by their desire and beliefs for a better life ahead.
Friday, November 6, 2015
8:00 p.m.
Mitrani Hall
Adults/$40, Children and BU students/$20
Sons of Serendip, finalists on America's Got Talent. This foursome (cellist, harpist, pianist and vocalist) wowed the judges with their musical talents , now they're doing the same for audiences.
Saturday, November 21, 2015
8:00 p.m.
Mitrani Hall
Adults/$35, Children and BU students/$17
Parsons Dance Company. The evening features the contemporary
dance troop, together with the East Village Opera Company, performing a blend
of operatic music with a distinctively rock-n-roll sound.
Saturday, December 5, 2015
8:00 p.m.
Mitrani Hall
Adults/$30, Children and BU students/$15
Whether you'll be in town for a university visit or just
want a weekend away, plan to stay with us at the Inn and take in one of these
wonderful shows. You can enjoy dinner at the Farmhouse restaurant before heading into town, and have a
nightcap in the Brew Pub when you return. Give us a call!