If you like the idea of walking through the field to find the perfect tree and cutting it down yourself, here's a tip. Head out to Ecology III Christmas Tree Farm,
where you can not only select the tree you want and chop it down, but
you can get help hauling it out. It's like having Santa's own elves at
your service!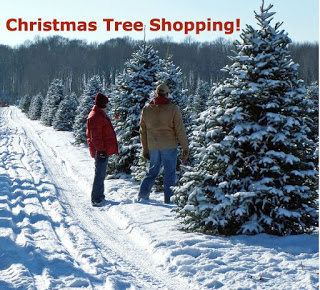 The company, based in nearby Orangeville, provides everything you need for a fun outing—a hand saw, measuring pole, and best of all, a red limo or silver tree wheeler that are specially designed to haul the tree in from the field. Nice, huh?
The farm was planted in 1988 and has a wide selection of trees to choose from, including Fraser Fir, Concolor Fir and Colorado Blue Spruce. Once you find your perfect tree, the folks here shake, drill and bale it for you. They'll even drill a tapered hole in the base if you want to use a pin tree stand. And while they're doing the work, you can be sipping hot chocolate.
In addition to trees, Ecology III Christmas Tree Farm also has a nice selection of wreaths and swags.
Ecology III Christmas Tree Farm
122 Savage Hill Road, Orangeville
570-683-5275
Trees, 4-feet to 12-feet, $20 – $69
Open Thanksgiving through Christmas
Thursday – Sunday, 9:00 a.m. – 5:00 p.m.
You can make the whole outing even more festive, with a cozy night or two here at the Inn. We're all decked out and ready for you!