It's hard to imagine a more delightful way to spend an afternoon than sipping wine on the deck at Shade Mountain Winery and Vineyard in Middleburg, PA. The expansive space overlooks neat rows of grapes and fields, nestled in the foothills of namesake Shade Mountain. If you're traveling from the Inn, it's about an hour's drive, and a pretty one at that.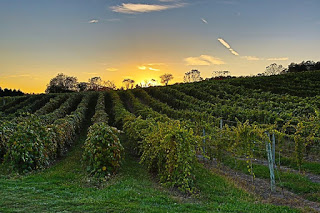 Photo courtesy of Shade Mountain Winery and Vineyard
The vineyard, started in 1989 by Karl and Carolyn Zimmerman, is a family affair with the couple's four kids and spouses taking a role in the business. More than 68 acres produce 40 different types of grapes for the winery's many varietals, as well as shipments to other Pennsylvania wineries.
Shade Mountain makes 14 different red wines, including 005-Dry and Cabernet-Franc, both silver medal winners at the Pennsylvania Farm show. Whites range from the extra-dry Three Witches Sparkling wine to a Late Harvest Sweet Riesling.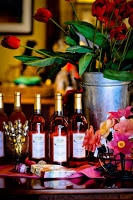 Photo courtesy of Shade Mountain
Winery and Vineyard
You'll also find four blush wines, plus Glogg, port and ice wine. Using Pennsylvania-grown fruits, the winery also makes more than a dozen fruit wines, including semi-sweet plum and sweet pineapple.
Shade Mountain Winery is located in a 19th Century bank barn that's been renovated, with additions for an event room and the expansive decks. Stop in during the day and you can enjoy a tasting of wines and relaxing views. Throughout the year, the winery hosts events at the Middleburg, such as an upcoming wine and art class. And every October, they have a wine festival, complete with a grape stomping.
Closer to the Inn, guests can sample Shade Mountain wines in the company's Danville store. There is also a store in Millheim, PA.
Shade Mountain Winery and Vineyards
16140 Route 104, Middleburg, PA
Monday – Thursday, 10:00 a.m. – 5:00 p.m.
Saturday, 10:00 a.m. – 5:00 p.m.
Sunday, 12:00 p.m. – 5:00 p.m.
570-837-3644
1 North D&H Avenue, Danville, PA
Monday – Thursday and Saturday, 11:00 a.m. – 6:00 p.m.
Friday, 11:00 a.m. – 7:00 p.m.
Sunday, 1:00 p.m. – 5:00 p.m.
570-284-4311
If you do purchase a bottle of wine, you can always enjoy it in the comfort of your room back at the Inn, or relaxing by the lagoon. With nicer weather in store, it's a great time for a visit!