Just outside of Danville, PA, is one of the oldest rail-to-trails in the country. The J. Manley Robbins Trail was created on a former narrow gauge line back in the 1890's, at a time when bicycles were gaining popularity, and before the idea of a "rail to trail" was formally conceived.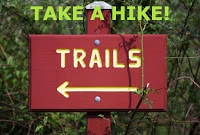 The enjoyable 3.8 mile loop is a multi-purpose trail that accommodates, bikers or walkers or all levels. Joggers love it, and so do dogs who are allowed on leashes.
You can access the trail in several locations—just ask the Inn's great Front Desk Staff and they'll be happy to give you directions.
The hard-packed gravel trail, which is well-marked, follows the old railroad line that parallels Route 54, crosses over a wooden covered bridge and passes through a pretty wooded area on a ridge above Mahoning Creek.
Because of its proximity to the town, and it year-round accessibility, the trail is one of the more popular in the area. If you enjoy a little walk or ride mixed into a day of touring, this is a nice option.
You can combine it with other trails in the area, or take head into Danville for a little shopping, visit an art gallery or grab lunch at one of its delightful restaurants.
With warmer weather, we're all itching to hop on our bikes and take in the sites. The Inn makes a great home base for doing that. Give us a call—we'd love to have you!