Before heading off for Memorial Day celebrations, make a date to see Mr. Lincoln, the Bloomsburg Theater Ensemble's upcoming play, scheduled for May 26-29, 2016. The play is back by popular demand—it was a hit production in 2015—and starring local favorite Tom Byrn, who worked at BTE from 1991 to 2003.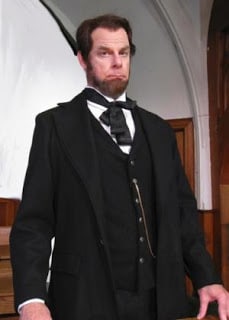 Photo courtesy of Bloomsburg Theater Ensemble
The play begins at the end of President Lincoln's life, at the Ford Theater in Washington, D.C., on the night he was shot. As John Wilkes Booth aims his pistol, Lincoln's life begins to flash in front of him. In the following scenes, the play recounts his early days as a lawyer in Illinois through his time as President of the United States. Many of Lincoln's own words help to tell his story as both the advocator and the liberator.
Written by Herbert Mitgang, Mr. Lincoln has been performed around the world, and was the first Hallmark Hall of Fame drama presented on PBS.. Guests who enjoy history—and a good drama—will thoroughly enjoy it.

Mr. Lincoln
May 26-29, 2016
7:30 p.m. Thursday/Friday/ Saturday
3:00 p.m., Sunday
$26/adult, $22/senior (60+), $22/young adult (under 30); $13/student; $8/BU student
Bloomsburg Theater Ensemble
226 Center Street, Bloomsburg, PA
570-784-8181
Come visit for the holiday weekend, take in a play and enjoy a bit more of history here at the Inn. After all, our main buildings date back to the Lincoln era!