One of the best rodeos east of the Mississippi hits town next month. The 32nd Annual Benton Rodeo will be bringing broncos, bulls and blots of entertainment to the area Tuesday through Sunday, July 12-17, 2016. Whether you're competing or watching, it's one of summer's not-to-miss events.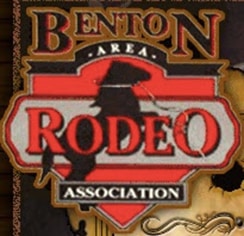 Logo courtesy of
Benton Area Rodeo Association
Cowboys and cowgirls from across the country will be competing in activities such as bull riding, barrel racing, calf roping and more. There will be kids events, such as Mutton Bustin', events for the entire family, and musical entertainment. You'll find a great selection of food, including a special breakfast both Saturday and Sunday. Below is a highlight of what's on the schedule, but be sure to check out the Benton Rodeo website for a full listing of events.
Benton Rodeo
July 12-17, 2016
Benton Rodeo Grounds
385 Mendenhall Lane, Benton, PA
570-925-6536
Tuesday, July 12
Horse Show, 7:30 p.m.
Free
Wednesday, July 13
3D Barrel Racing
7:30 p.m.
Free
Thursday – Saturday, July 14-16
Championship Rodeo
7:30 p.m.
Adults, $15; Children 4-12 years, $12; Children 3 and under, free; Seniors 65+, $12; Active Military with ID, $10
Sunday, July 15
Bull-A-Rama
7:30 p.m.
Pricing same as above
The Benton Area Rodeo Association sponsors the rodeo to help boost local tourism and provide funding for local charities, so it's a great way to have fun and do good at the same time.
After a day at the Rodeo, it'll feel great to come "home" to the quiet country setting of the Inn, where you can kick off your cowboy boots and relax in style. Give us a call soon to book your stay!
Save