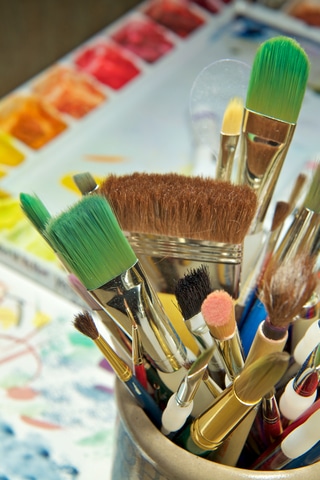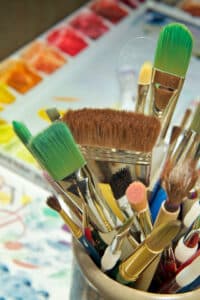 Whether you're hoping to bring home a special memento of your stay at The Inn, Farmhouse and Brewing Co. at Turkey Hill, select a gift, or just enjoy browsing a wide selection of juried fine arts and crafts, the Artspace Gallery is an art-lover's destination. For over twenty years, this cooperative gallery has offered original pieces by local artists. These original works include clay, drawings, paintings, prints, photographs, encaustics, fiber art, fused glass, jewelry, clay, sculpture, and woodwork. All works are juried by members of the cooperative to assure beautiful, locally made, and affordable art awaits you.
The gallery offers a different exhibit by members, regional guest artists, or arts organizations bi-monthly. The current exhibit, through Sunday, August 22, 2016, is Art in the Key of Life. This exhibit by over 30 Bloomsburg area artists, was inspired by Stevie Wonder's 'Songs in the Key of Life'. Each of the artists played on this theme, creating works influenced by music.
Three more exhibits are scheduled this year:
'Chiaroscuro'                                          Robert Brown                               Aug. 25 – Sep, 30, 2016
'Reflections in Glass and Water'        Becky Marks & Bob McCormick   Oct. 6 – Nov. 13, 2016
'Holiday Show'                                     Artspace Members                        Nov. 17, 2016 – Jan. 8, 2017
You'll find Artspace Gallery in downtown Bloomsburg, less than a 10 minute drive from the Inn.  The Gallery is open Thursdays through Sundays each week, and the Artspacers invite you to stop by to enjoy their many forms of creative expression.So when you stay at the Inn, make sure you visit the Gallery, and you'll leave with a melody in your art or just whistling a happy tune.
Artspace Gallery
221  Center Street, Bloomsburg, PA 17815
Phone: 570-784-0737
Gallery Hours: Thursday-Saturday noon – 8 pm
Sunday noon – 5 pm