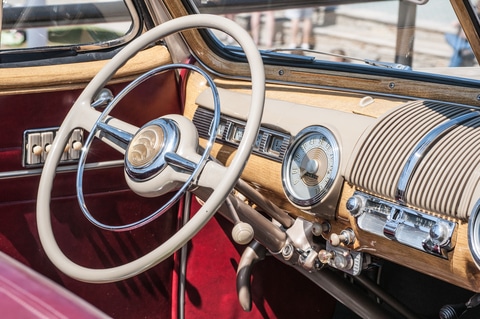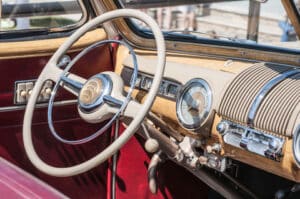 Cruise down memory lane to the 1950s and 60s when your 21st century vehicle pulls up to Jerry's Classic Car & Collectibles Museum in Pottsville, PA. Put away your smartphone and time travel back to the 'happy days' of drive-ins and rock-n-roll. Join thousands of car buffs from across the country and around the world to admire the changing display of restored, vintage cars, with a teenager in bobby socks or even a lady in mink ready to drive away. Over 20,000 pieces of memorabilia, from gas station signs to 1950s appliances, surround you with nostalgia. Climb to the second floor of this former Studebaker dealership to find displays including a bandstand, drive-in theater, barbershop, millinery, library, and kitchen and appliance store, not to mention a complete auto parts store and iconic snack bar! The soda jerk seems ready to take your order while you listen to the jukebox and try you hand at the pinball machine.
Whether you remember those days from experience or just know about them from TV or history books, you're sure to enjoy your visit. So make plans for your afternoon excursion to the 50's and 60's as part of your weekend getaway to Bloomsburg- the museum is only an hour's drive away from the Inn. You can stay in the present via I-80 and I-81, or meander back through the decades via PA-487, PA-42, and PA-61to Pottsville.
If you're a classic car lover, or just enjoy looking back in time to when tail-fins were big, and TV commercials told you to tour the "USA in your Chevrolet" with a "Tiger in your Tank" (Esso), this museum is the place to go. So pull out your smartphone to book your stay at the Inn, and get behind the wheel for a trip back to those nostalgic 'happy days' this fall.
Jerry's Classic Cars & Collectibles Museum
394 S. Centre Street, Pottsville, PA 17901
Phone:888-802-6605 or 570-628-2266
Open from May through October
Days: Fridays, Saturdays, and Sundays only Hours: Noon to 5 pm
Admission is CASH ONLY
Adults: $10.00
Seniors (61+), Military, AAA & AACA members: $8.00
Children (6-12): $8.00
Children under 6: Free