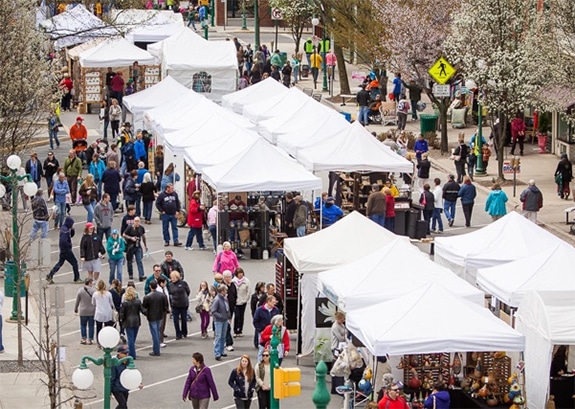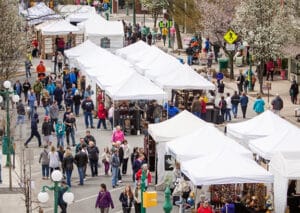 Art blooms in Lewisburg this spring at their 48th annual Celebration of the Arts, sponsored by the Lewisburg Arts Council. The two weeks of events throughout the town kick off with the Lewisburg Arts Festival, Saturday, April 28, from 10:00 am until 5:00 pm, when you'll find juried and performance art of all kinds, live music, and food vendors along Market Street. The 2017 Featured Artist, Barbara Baker, will display her work at Faustina's Gallery throughout the Celebration. She currently works primarily in colored pencils, "making the ordinary beautiful and trash into treasure."
Saturday's Festival features over 100 juried artists displaying their works throughout Lewisburg's historic downtown. You'll find the Indoor Art Exhibit, a juried show for professional and amateur adult artists, plus the Scholastic Arts Exhibit, featuring artists from more than 20 high schools, at the Packwood House Museum. Stop by the Himmelreich Memorial Library for the Photography Exhibit and the Interactive Arts Park at Soldiers' Park, created with children in mind. Don't miss the performance art and entertainment throughout the day – you'll see everything from the rubber ducks competing in the Duck Derby to benefit Habitat for Humanity to the Society for Creative Anachronism's medieval pageantry.
At Hufnagle Park's Main Tent you'll be entertained by This Band's For You, the Uptown Music Collective, the Duck Derby, and the Bucknell Jazz Band
The Dance Corner at Post Office Square features the Dance Conservatory, Cloverleaf Cloggers, Contra Dancers, Downtown Dance, and the Society for Creative Anachronism.
You can even enjoy the works of local culinary artists at the food booths and horticultural talent at the Lewisburg Garden Club Plant Sale
The Celebration continues with workshops throughout the following two weeks including plein air painting, digital photography, and creative drama. Music-filled Lewisburg Live! brings the Celebration for the Arts to a close on May 13, 2017. Don't wait to plan your getaway to Bloomsburg, and enjoy the creativity that flowers this time of year in Lewisburg. All the fun is just a half-hour away from the Inn, Farmhouse, and Brewing Company at Turkey Hill!
Photo courtesy of Lewisburg Arts Council