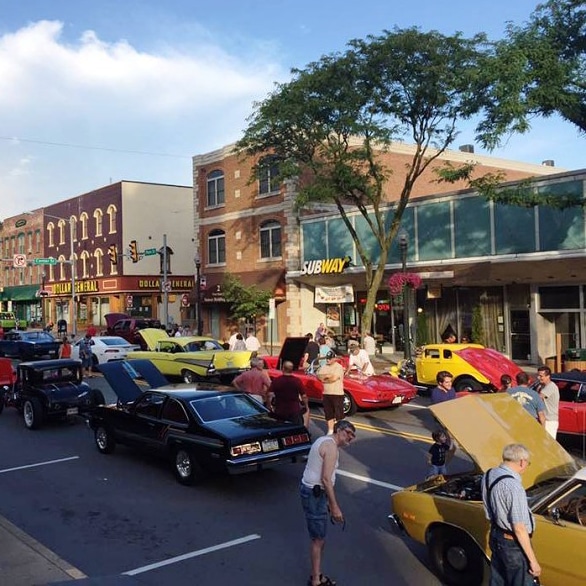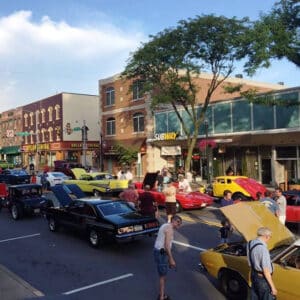 Make plans for a fun-filled weekend at the second annual Bloomsburg Nationals auto show August 11-13, 2017 right here in Bloomsburg, PA. This event showcases over 900 cars, trucks and motorcycles of varying eras, plus related products and services in the automotive industry. Weekend activities will include the auto show, swap meet, car corral, live music, food, games and more. The vehicles you'll see will range from a 1930 Model A Ford street rod to a 1966 Mustang pulling a racing hydroplane to a 2011 Grand Sport Corvette. This year the show honors veterans, with displays of restored military vehicles, including a 1955 military Jeep, 1961 Marine Mighty Mite Jeep, Army cars and motorcycles.
Festivities kick off Thursday evening, August 10, 2017, at 6:00 pm with Gridlock on Main Street in Bloomsburg (shown at right). Each day the show offers metal working and NAPA seminars, crafts and vendors. Friday highlights include a burnout contest, plus the live band 70's Flashback and a Flamethrower Show in the evening. Saturday highlights include slow drag, muffler rap, teeter totter, and wing eating contests. The day ends with the Tribute to Veterans, including patriotic songs and a color guard at 4:00 pm, followed by the live band Rick K and the Allnighters, a pedal car auction, and chili cook-off. For a complete schedule of events, visit the Bloomsburg Nationals website.
Turn some dog days of August into car days at the Bloomsburg National! You'll have a great weekend getaway filled with vehicles of all kinds, crafts, fair food, and live music. You'll find lots of other options for summer fun nearby as well, from hiking and canoeing to a day at Knoebel's Amusement Park. Just give us a call at the Inn, Farmhouse, and Brewing Co. at Turkey Hill, and we'll help you plan a fun-filled summer vacation in Northeastern Pennsylvania!
Bloomsburg Nationals August 11-13, 2017
Location: Bloomsburg Fairgrounds, 620 West 3rd Street, Bloomsburg, PA 17815
Phone: (570) 784-4949
Times: 8:00 am until 8:00 pm Friday and Saturday.
Sunday 8:00 am until the end of festivities after 1:00 pm.
Admission: $8.00 a day per person or $12.00 for a weekend pass Friday and Saturday. Sunday is by donation. Children 12 and under free.
With proper ID, all veterans receive free admission on Saturday.
NAPA is a major sponsor of the show, including equipment raffles.
Proceeds support local charities: Camp Victory, Bloomsburg Women's Center, Children's Learning Center and EosTherapeutic Riding Center.
Photo courtesy of Bloomsburg Nationals