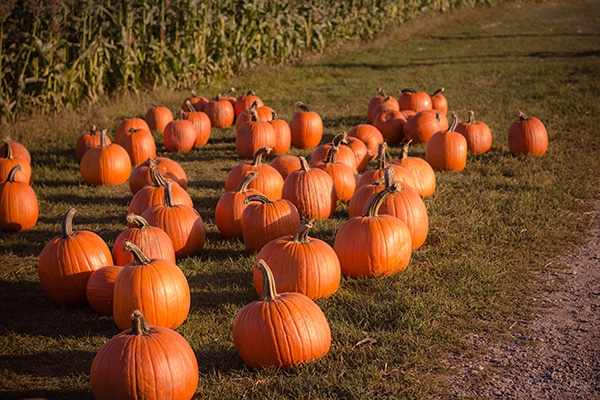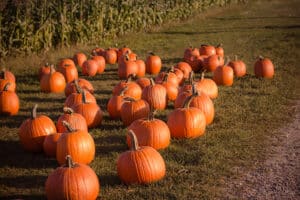 Fall is coming to Bloomsburg, and with the foliage season comes the fun of hayrides, corn mazes and pumpkin patches. Rohrbach's Farm Market in nearby Catawissa, PA (less than 20 minutes from The Inn, Farmhouse, and Brewing Co. at Turkey Hill), celebrates with a Pumpkin Fall Festival every weekend from September 16 through October 28, 2017. There's fun for guests of all ages, including free hayrides and a Playland for kids. Try your hand at Pumpkin Chunkin by sending your pumpkin sailing toward a target with a giant slingshot, or practice your shooting aim with the Corn Cannon. Don't miss the Farm's famous corn maze, open Saturdays in September, and both Fridays and Saturdays in October. When October arrives, the Farm adds Flashlight Nights in the Corn Maze, free entertainment on Saturdays, and Freas Farm Winery is open. Every weekend you can enjoy treats at Rohrbach's Food Stand, and in October, there will be choices from hot sausage to Stromboli and french fries to funnel cakes. Don't forget the reason for all these festivities – to pick your own pumpkin!
Kohl's Stony Hill Tree Farm also celebrates with Fall Festival weekends through November 5, 2017. The Farm, in Milton, PA, is less than a 25 minute drive west from the Inn. Pick a pumpkin (or two…) from the thousands of all sizes in their pumpkin patch, enjoy family lawn games, take aim with a Corn Cannon, test your skill at Pumpkin Chunkin toward a talking target's mouth, plus lots more! Their half-hour hayride takes you to see the colorful fall foliage on country roads, and one of Columbia County's historic covered bridges. Lose yourselves in the four miles of paths through their seven acre Corn Maze, and if you dare, Howl at the Near Full Moon on the evenings of October 6 or November 3, 2017, when the maze is open until 11:00 pm. New this year, until September 24, you can enter their scarecrow building contest.
The Fall Equinox is September 22, so don't wait to book your foliage season vacation at the Inn. You'll enjoy celebrating harvest season at the fall pumpkin festivals, knowing that a cozy evening by the fire will warm you after your day's adventures in the crisp autumn air.
Rohrbach's Farm Market Pumpkin Fall Festival
240 Southern Drive, Catawissa, PA, 17820 Phone: 570-356-7654
Open
September Saturdays, September 16 – 30, 2017 Hours: 11:00 am – 5:00 pm
October Fridays October 6 – 27, 2017 Hours: Friday 3:00 pm – 7:00 pm
October Saturdays October – October 28, 2017 Hours: 11:00 am – 7:00 pm
Flashlight Night in the Corn Maze 7:00 pm – 8:30 pm (bring your own flashlight)
Columbus Day, October 9, 2017 Hours: 11:00 am – 5:00 pm
Admission
Public Hayrides: Free
Corn Maze: Ages 12+ $8.00; Ages 4-11 $5.00; Ages 3 and under free. Military Discount: Half price admission with valid Military ID.
Playland: Ages 2-11 $6.00; Ages 12+ $1.00; Ages 2 and under free
Kohl's Stony Hill Tree Farm
3021 Mexico Rd., Milton, PA, 17847 Phone: 570-437-3442
Open
September 1 – November 5, 2017 Fridays, Saturdays, Sundays
Hours: Fridays: 3:00 pm – 9:00 pm Saturdays: 11:00 am – 9:00 pm Sundays: 12:00 – 8:00 pm
(Flashlights required after dark)
Columbus Day, October 9, Hours: 11:00 am – 8:00 pm
Admission
Corn Maze: Adults $ 10.00; Ages 5-12 & Seniors $6.00; Ages 4 & under free; Veterans free during September with military ID.
Hayrides: Adults $3.00; Ages 5 -12 $2.00; Ages 4 & under free
Corn Maze & Hayride Combo: Adults $12.00; Seniors $8.00 Ages 5-12 $7.50; Ages 4 & under free
Photo by Bonnie Kittle