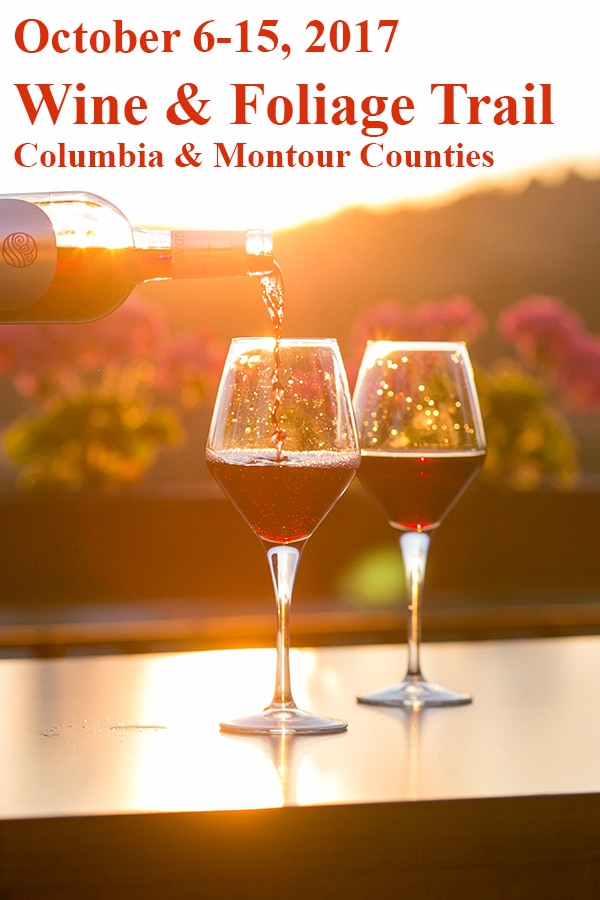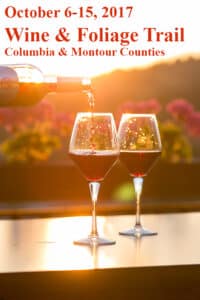 Pennsylvania's fall foliage and wines – there's no better way to celebrate autumn in the Susquehanna Valley this October! October is Pennsylvania wine month, and the Columbia and Montour Wineries invite you to their Wine and Foliage Trail from Friday, October 6 through Sunday, October 15, 2017. Each of the nine wineries plans a special wine pairing with a delicious seasonal treat. Everyone completing the trail will be entered to win one of the wine-themed prize baskets created by the individual wineries, plus the Grand Prize basket!
Did you know that with over a hundred wineries, Pennsylvania ranks number five in the U.S. in the amount of grapes grown, seventh in wine production and in the number of wineries? In our region, vineyards produce cool-climate vinifera varieties such as the traditional Riesling, Traminette, and Cabernet Franc, as well as wines with delicious fruit flavors.
To complete the Wine and Foliage Trail in a single drive, you might start at the two wineries in Berwick, PA: Freas Farm Winery and O'Donnell Winery. Then you can drive back along the Susquehanna to the Orangeville area to visit Pickering Winery and the Purple Cow Winery. Farther north, at Benton, you can visit Elk Mountain Winery at Stony Acres and Colonel Ricketts Hard Cider Winery, both along Route 487. The drive from Orangeville to Benton on Route 487 will give you some great glimpses of foliage, plus the chance to see several of the many covered bridges in our area. From Benton, you can continue west on Route 254 to Jerseytown, and Route 6 to the Danville locations of Red Shale Ridge Vineyards and Shade Mountain Winery. Celebrate completing the trail (or beginning it) at Three Dogs Vino here in Bloomsburg. Of course, you don't have to visit all the wineries on the same day!
Autumn's chill is finally in the air here in Bloomsburg, and experts now predict that foliage in our area will peak about mid-October, so if you haven't yet booked your October stay at the Inn, Farmhouse, and Brewing Co. At Turkey Hill, don't delay! We look forward to welcoming you soon.
Wine and Foliage Trail in Columbia and Montour Counties
Dates: October 6-15, 2017
Times: Wineries will be open during usual business hours; please see individual wineries' hours on their websites, many are open Friday, Saturday, and Sunday only.
For additional information: Please visit the Pennsylvania Wines website.
NOTE: Some wineries have tasting fees and others do not. Please see individual wineries' websites for specific information on tasting fees as well as business hours.