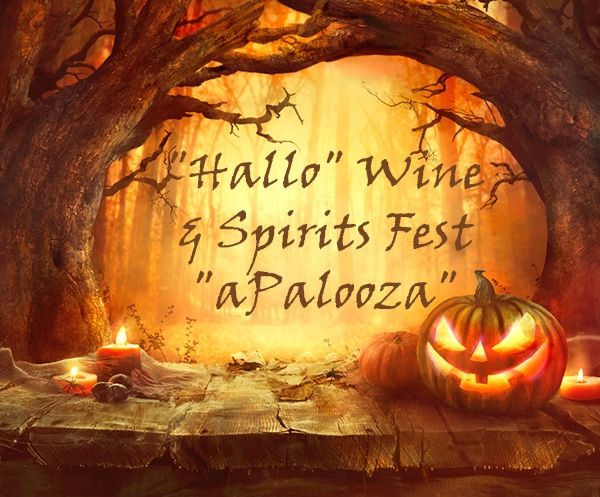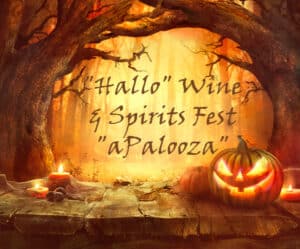 The spooktacular "Hallo" Wine & Spirits Fest "aPalooza" comes to Bloomsburg, PA, on Saturday, October 28, 2017! It's your chance to be spirited away at a tasting session hosted by nine different wineries and three distilleries. You can stay right here in Bloomsburg at The Inn, Farmhouse, and Brewing Co. at Turkey Hill, and tour tasting rooms from Clearfield and Ashfield to the west, Chambersburg and Bethel to the south, and Allentown to the east! You can do more than experience the spirits – you'll find a variety of vendors and food trucks as well.
The variety of dry, semi-dry, sweet wines include those made from French hybrid and native American grapes, fruits of all kinds, and creative blends of different grapes and of grapes with different fruits and with honey. Wineries will offer classic white wines such as Chardonnay, Sauvignon Blanc, Pinot Grigio, Riesling, Traminette, and Muscato, plus native Niagara and Catawba. Among the different wineries, guests may choose to sample classic reds such as Cabernet Franc, Chambourcin, Pinot Noir and Merlot, as well as our native Concord. Fruit wines range from pear to plum and raspberry to rhubarb. The creative blends are endless – Riesling and Niagara, blackberry with merlot, cranberry with concord, blueberry with Gewurtztraminer, and mango with Catawba are just a few.
There will no lack of spirits to complement the "Hallo-wines" – wheat, potato, and fruit flavored vodkas, plus American, Wheat, Corn, and Rye Whiskies (some barrel-aged), not to mention Salted Caramel Whiskey! Rums, Bourbon, gin, and fruit moonshines complete the spirit list. Autumn is apple season, so the wineries and distilleries will be celebrating with fall's arrival with spiced apple wine, plus dry and hard apple cider and apple pie moonshine.
Here is a list of participating wineries and distilleries:
There are two different "Wine Spirits Cider" Tasting Sessions scheduled: Session #1 from 12:00 to 3:30 pm, and Session #2 from 1:30 to 5:00 pm, so there will be plenty of time for other fall activities on your weekend stay with us at the Inn. Get in the "Hallo-wine" spirit and give us a call or go online to reserve your stay!
"Hallo" Wine & Spirits Fest "aPalooza"
Date: Saturday, October 28, 2017 Time: 12:00 pm – 5:00 pm
Location: Bloomsburg Fairgrounds, 620 West 3rd Street, Bloomsburg, PA 17815
Phone: 412-405-9721
Admission per session includes a souvenir "stemless" glass
If purchased online:
Individual Ticket (admits one): $12.00
Two-Pack Ticket (admits two): $21.00
Family & Friends Ticket (admits five): $44.00
Designated Driver Ticket: $5.00 for each Session
All Ticket at the door on day of the event: $15.00
NOTE: No refunds or transfer of any ticket allowed. Must be age 21+; photo ID required.