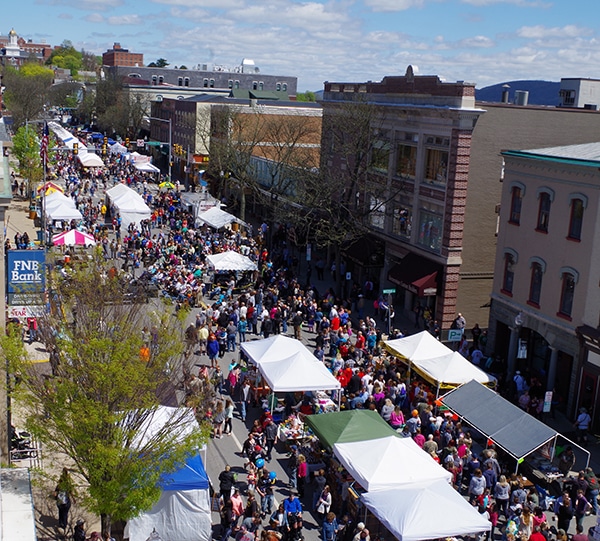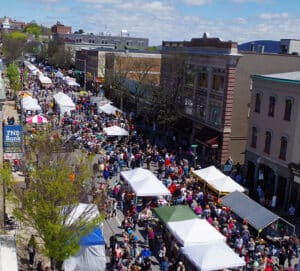 Downtown Bloomsburg reawakens Saturday, April 28, 2018, when it celebrates spring's blossoming in Northeastern Pennsylvania. Visitors will enjoy free entertainment at three different outdoor stages. Both the Courthouse Stage and the Iron Street Stage will have live music. You can listen to classic rock, country, jazz, blues, Motown, and soul throughout the day. The Market Square stage will feature dance groups, martial arts, and Flippenout Extreme Aerial Trampoline Team.
The variety of local art and craft vendors includes everything from handmade soaps to wooden signs and metal art, plus fabric art, jewelry, toys, garden décor, and more. Two dozen non-profit organizations will have food and drinks, books, plants, and more to sell. Whether you're hungry for crab cakes, pulled pork, gyros, or an old-fashioned hamburger or hotdog, you'll find it at the Renaissance Jamboree. Treat yourselves to sweets from sticky buns to whoopie pies, plus freshly squeezed lemon or limeade, soda, or a smoothie!
Spring flowers are starting to appear in our gardens, and the Brewing Company has some new releases, so there's no better time to celebrate the season with a weekend getaway to Bloomsburg's Inn, Farmhouse, and Brewing Co. at Turkey Hill!
40th Renaissance Jamboree
Date: Saturday, April 28, 2018 Time: 10:00 am – 5:00 pm rain or shine
Admission: FREE
Parking: Free parking with shuttle service is provided from the Bloomsburg Fairgrounds. Parking is also available behind designated local banks and municipal lots.
The Jamboree is sponsored by Downtown Bloomsburg Inc., Bloomsburg University and its Program Board, The Columbia Montour Chamber of Commerce, & The Town of Bloomsburg
Photo courtesy of Columbia Montour Chamber of Commerce