On Saturdays, summer and autumn guests at the Inn, Farmhouse, and Brewing Co. at Turkey Hill in Bloomsburg can explore two seasonal farmers markets within 10-12 miles of the Inn. Both of these markets include a wide variety of vendors in one convenient location. Bloomsburg's own Farmers Market has their most vendors on Saturdays as well.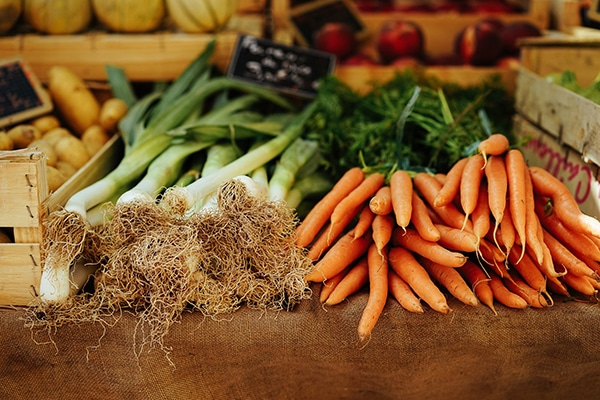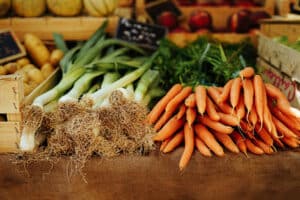 Bloomsburg Farmer's Market
Location: Main and Market Streets in Downtown Bloomsburg
Dates: May 26 – October 30, 2018
Days and Hours: Tuesday, Thursday, and Saturday from 7:00 am – 1:00 pm
Saturday's vendors include Cramer's Valley View Growers and ExAcre Farm as well as Ponduce Farms (Tuesday and Saturday) and Buckeye Bakery. Cramer's pesticide and herbicide free farm raises cage free beef, lamb, and chicken, brown eggs, fruits and vegetables, plus makes their own granola, baked goods, and hot sauce. (They also participate at Ferry Street Growers' Market.) Stop by EX Acres Farm from Stillwater for their seasonal fresh vegetables and farm-canned products. You'll find more fresh vegetables, as well as seasonal fruits, flowers, baked goods, and their own jellies, relishes, and jams at Ponduce Farms. Artisan breads, whoopee pies, cakes, and cookies are specialties at Buckeye Bakery.
Ferry Street Growers' Market
Location: 330 Ferry St, Danville, PA (12 miles west on US 11)
Dates: May 19 – November 17, 2018
Days and Hours: Saturdays only from 8:00 am – noon
This non-profit market supports local agriculture and Bloomsburg area growers, selling farm fresh fruits, vegetables, and eggs, baked goods, local meat and dairy products, plants and cut flowers, as well as various farm-produced, value-added products. Their 13 growers include eight farms producing fruits and vegetables, three supplying plants and cut flowers, a mushroom farm, maple farm, a producer of free-range pastured beef and lamb, one of homemade baked goods, and a local coffee roaster. Visit their website for detailed information about each grower.
Forks Farm Market
Location: 299 Covered Bridge Road Orangeville, PA (10 miles north on PA 487)
Dates: April 21 – October 27, 2018 plus one holiday market in November and December
Days and Hours: Two Saturdays each month from 10:00 am – 2:00 pm
Phone: 570-683-5820
Forks Farm is a working farm which opens its Market is open twice each month during the summer and fall. They offer free-range eggs, plus pasture-raised poultry, grass-fed beef and lamb, and woodlot pork. Each 2018 market day has a special themed event:
June 23: Brew Fest
July 14: Kids Day
July 28: Master Gardening
August 11: Farm Tour
August 25: Market and Yoga Fest
September 8: Corn Roast
September 22: Customer Appreciation Day
October 13: Canning and Preserving Workshop
October 27: Cider Press Demonstration
Their list of about 30 associated vendors offer organic fruits, vegetables and herbs, artisan breads and pastries, organic, grass-fed dairy products, a wide variety of artisan cheeses, locally produced honey, wines and beer, natural body care products, gifts, and more.
Together, these three seasonal farmers markets bring together over 40 different family-owned farms and businesses in Pennsylvania's Columbia and Montour Counties. Stopping by one or more of them on a Saturday is an easy way for foodies to sample the great variety of seasonal vegetables, fruits, artisan cheeses, pasture-raised meats, and specialty products our local growers produce. Why not make a picnic part of your weekend getaway this summer or fall? You'll find the makings of your al fresco feast nearby! You'll also can enjoy a number of these products featured seasonally on The Farmhouse and the Inn at Turkey Hill Brewing Company's menus. If a picnic is not in your weekend plans, be sure to dine at our restaurant or brewpub. If your stay in Bloomsburg is during the week, you'll find several other farmers markets open during the week throughout the year.
Photo by Peter Wendt on UnSplash