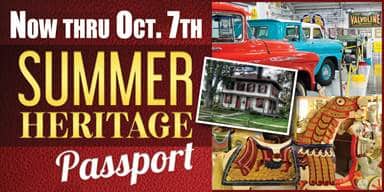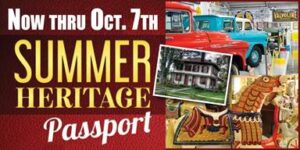 Northeastern Pennsylvania's new Summer Heritage Passport highlights historical attractions, museums, and events. It's a great way to find things to do on your PA vacation. You'll find all these historic attractions close to the Inn Farmhouse, and Brewing Co. at Turkey Hill in Bloomsburg, PA – the farthest away are Eagle's Mere's three museums, less than an hour's drive.
Eagles Mere, a lakeside community in Northeastern Pennsylvania's Endless Mountains, has been a summer resort for well over a century. Today, museums, restaurants, and specialty shops stocking everything from books to Adirondack style furnishings to jewelry surround its tree-shaded central green. You'll find the Eagles Mere Museum, Eagles Mere Auto Museum, and Eagles Mere Air Museum all among the 13 stops on the Summer Heritage Passport.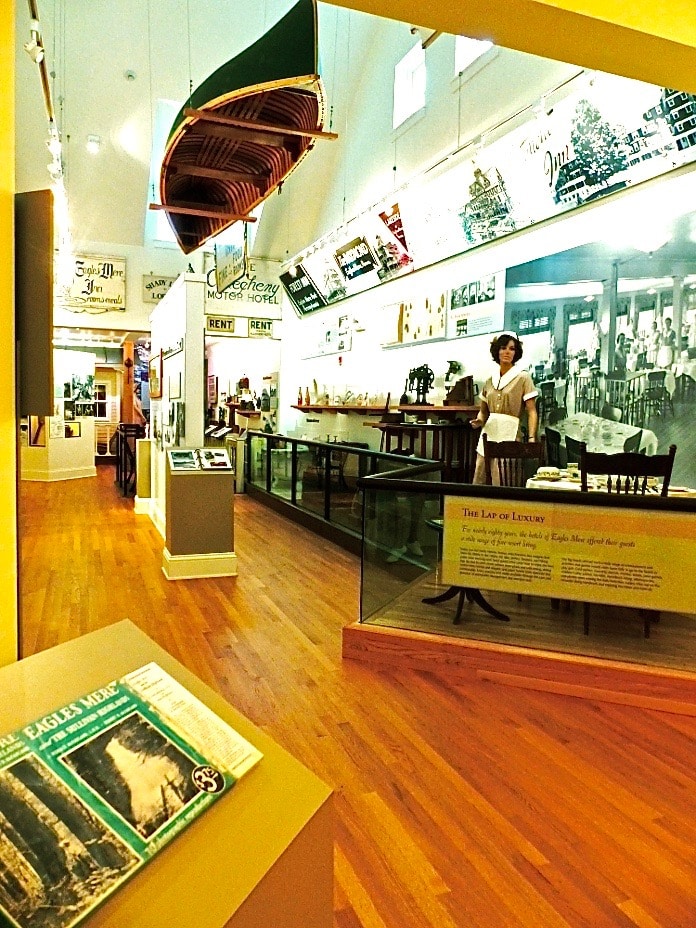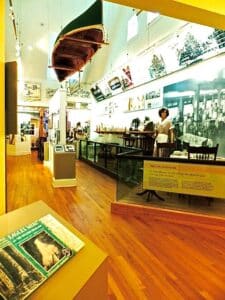 Look for the entrance to the Eagles Mere Museum on the porch of the restored general store (288 Eagles Mere Avenue). The Museum's exhibits interpret the historical and cultural heritage of the area spanning five eras – the George Lewis Glassworks (1804-1830, farming (1830-1880), big hotels for summer visitors (1880s-1960s), the narrow gauge railroad that brought these visitors (1892-1926), and the present. The second floor gallery is home to a miniature train display showing the narrow-gauge route to Eagles Mere. The current special exhibit features the decade of the 1920s, contrasting the lives of the thousands of 'summer people' and the community's year-round residents. The Museum is open daily from 10:00 am – 5:00 pm beginning June 15 until September 3, 2018, then weekends only the remainder of the year.
Eagles Mere hosts two special summer events on the Village Green each year:
The Summer Antiques Market will be Saturday, July 7, 2018, from 9:00 am – 4:00 pm. Admission is $5.00; children under 12 free. In addition to over 50 antique dealers who set up displays on the Green, visitors enjoy live music and plenty of tasty food from vendors.
The Annual Arts & Craft Festival will be on the green Saturday, August 11, 2018, from 10:00 am – 5:00 pm, and Sunday, August 12, 2018, from 10:00 am – 4:00 pm. Admission is $5.00; children under 12 free. This juried event will feature 90 of the finest artisans from throughout the Eastern Seaboard, plus live entertainment, food vendors, and more.
To learn more about the Columbia Montour Visitors Bureau's Summer Heritage Passport and all its historic attractions, download the brochure with detailed information about each Passport location, event, and additional heritage sites in the region. We look forward to welcoming you to our own 19th century historic Inn and the Brewing Company – with 21st century amenities, of course! You can go online to choose your favorite of our 23 individually designed guestrooms, all featuring handmade wood furniture. It's easy to reserve your stay online, or if you prefer, just give us a call at 570-387-1500 and we'll be happy to assist you with your reservation.
Passport by Columbia Montour Visitors Bureau Museum image courtesy of Eagles Mere Museum