Valentine's Day means romance, and Bloomsburg, PA's galleries will put both a song and a little love in your heart with art exhibits this February. The current The Exchange Gallery exhibit is The Sound (and Sight) of Music on display through February 15, 2019. At Artspace, visitors can Put A Little Love In Your (He)Art through February 24, 2019. Gallery Receptions celebrating both shows will be Saturday, February 9, 2019, the weekend before Valentine's Day, from 6:00 – 8:00 pm.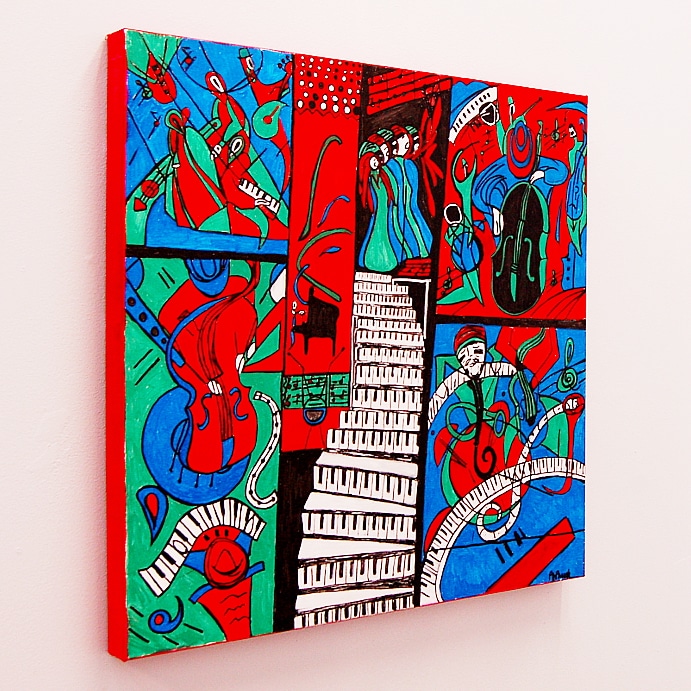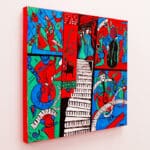 In The Sounds (and Sights) of Music, The Exhange asked regional artists to create works inspired by their favorite songs. The results included paintings, drawings, photographs, digital imagery, glass, fiber, collage and other mixed-media pieces. Modest Mouse songs inspired works by several different artists. "All Night Diner" and "Polar Opposites" inspired paintings, while "Custom Concern" an embroidery piece. David Bowie also inspired different artists – one created a portrait and the other drew inspiration from "Starman". Some other sources of musical inspiration included Johnny Cash, "Wicked", "I Feel Like I'm Fixin' To Die Rag," by rock band Country Joe and the Fish, and even the "Hokey Pokey." At the Gallery Reception on February 9, The Exchange will highlight the theme of musically-inspired art with a performance by Raven Creek, the local Bluegrass band featuring Lorraine and Joe Feola from Benton, PA. Raven Creek has performed frequently at Bloomsburg's annual ArtFest, as well as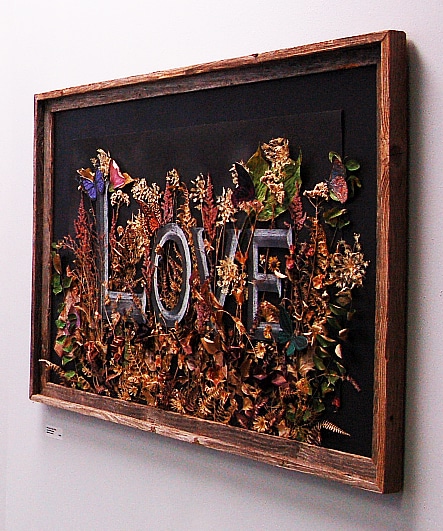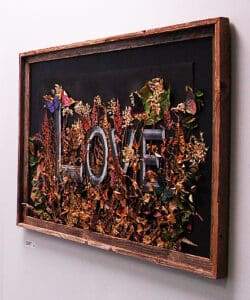 many other regional venues.
Put A Little Love In Your (He)Art at Artspace displays original works by juried artists that are inspired by hearts and romance. The cooperative gallery features a wide variety of fine arts and crafts that include drawings, prints, paintings, sculpture, fiber art, fused glass, jewelry, pottery, and woodwork. The Reception on February 9, will Put A Little Love In Your (He)Art with romantic harp music by Julia Pena and a chocolate, wine, and coffee tasting. Guests will enjoy chocolates by Candy Carousel Confections, which specializes in hand-crafted chocolates and barks as well as chocolate-dipped treats including strawberries and pretzel logs. Bloomsburg's Three Dogs Vino will provide wine to complement the chocolates, and Bason Coffee Roasting will supply the coffee. They specialize in small batch roasting sourced from worldwide importers offering coffees that are Fair Trade, organically grown, shade grown and bird friendly.
The Bloomsburg area has an active arts community. In addition to The Exchange and Artspace, visitors can enjoy exhibitions at Bloomsburg University's Haas Gallery of Art, and at Bucknell University's Samek Art Museum in Lewisburg. The Samek's current exhibit (through March 24, 2019) is Border Cantos | Sonic Border, a collaboration between American photographer Richard Misrach and Mexican American artist and composer Guillermo Galindo." Together, they explore the complexities of the US-Mexico border through photography, sculpture, and sound…"
Romance is in the air in Bloomsburg, so why not put a little more love and art in your life with a getaway to The Inn, Farmhouse, and Brewing Co. at Turkey Hill. This winter and early spring you can enjoy a romantic getaway package that includes a one night stay in one of our Stable Rooms with fireplace and two-person whirlpool tub, a three course dinner for two in our Farmhouse Restaurant, and gourmet breakfast in the morning. Call us at (570) 387-1500 to reserve your stay or book directly on our website if you prefer.
The Exchange Gallery Artspace Gallery
Gallery hours: Mondays & Fridays 10:00 am – 6:00 pm Gallery hours: Thursday-Saturday 12:00 – 8:00 pm Sunday 12:00 -5:00 pm
Exhibit Reception: February 9, 2019, from 6-8 pm Exhibit Reception: February 9, 2019, from 6-8 pm
Location: 24 East Main Street, Bloomsburg, PA Location: 221 Center Street, Bloomsburg, PA
Images courtesy of The Exchange Gallery