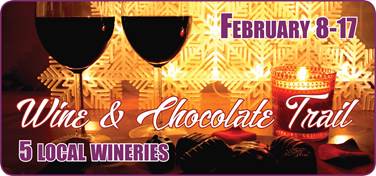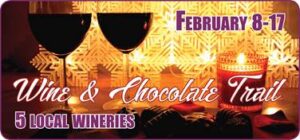 Celebrate Valentine's Day with a romantic getaway in Northeastern Pennsylvania to the Wine & Chocolate Trail – a wine and chocolate festival in the Bloomsburg, PA area. Five wineries in Columbia & Montour Counties will host a full Wine & Chocolate Week including TWO Valentine's weekends, from Friday, February 8 through Sunday, February 17, 2019.
Each winery will offer special chocolate pairings with their wines, plus the chance to enter drawings for prize baskets. These Pennsylvania wines typically range from dry to sweet, with white, red, blush, and fruit-based wines. Tickets for the Trail are FREE, but tasting fees may apply at wineries. Please visit the Wine & Chocolate Trail webpage for more detailed information.
Experts offer many opinions about the best wines to pair with dark, milk, and white chocolates. In general, choose a wine that is slightly sweeter than the chocolate. Lighter-bodied, smoother wines pair with more delicately flavored chocolates. Full-bodied wines, which may have nuances of chocolate or bold fruit, pair best with stronger, more intense dark or bittersweet chocolates. White chocolate usually pairs best with more sweet and many fruit wines.
The wineries participating in the February 2019 Wine & Chocolate Trail are:
Colonel Ricketts Hard Cider Winery blends and barrel ages their varieties of apples to produce dry and tart as well as semi-sweet ciders, including Fuji Fanatic. Milk chocolate is one suggestion for pairing with Fuji applies.
Winter/Spring location: 126 S. 3rd Street, Benton, PA
Freas Farm Winery creates farm to table wines that repeatedly win medals at Finger Lakes International Wine Competitions. Bulldawg Blues, a Gold Medal blueberry wine, plus Silver Medalists Vida's New Blend (Vidal grapes sometimes used for ice wine), and Queen of Tarts, a cranberry wine, all could pair with white chocolate. Chocolate and port are a traditional pairing, so Silver Medalist Athair Laidir Port could pair well with milk or perhaps dark chocolate.
Location: 130 Twin Church Rd, Berwick, PA
Red Shale Vineyards produces a wide variety of white, red, and fruit wines ranging from sweet and semi-sweet to dry. Their Gold Medal Strawberry wine could pair with all three varieties of chocolate. Some of the sweeter wines, such as Fredonia, a sweet red, White Pigeon, a sweet blend of white grapes, or Cayuga, a lighter body semi-sweet white, could pair with milk chocolate. Fruit wines like blueberry, peach, and black raspberry might pair best with white chocolate.
Red Shale Ridge Vineyards – Danville Location: 234 Mill Street, Danville, PA
Shade Mountain Winery produces over 40 wines including red, blush, white, sparking, and fruit wines. The vineyard suggests their sweet Blackberry wine is great with chocolate. Their 2015 005, a medium-bodied blend of Cabernet Sauvignon, Cabernet Franc, Sangiovese, Merlot & Petite Verdot, might pair with dark chocolate. The 2017 Keelboat Red, a semi-sweet blend of Sangiovese, Cabernet Sauvignon, Cabernet Franc, Concord and Raspberry, might complement milk chocolate. Milk or dark chocolate also could pair with Cherry, Raspberry, and Strawberry wines or their Port.
Shade Mountain Winery & Vineyard – Riverside/Danville Wine Store Location: 1 North D & H Avenue, Danville, PA
Three Dogs Vino here in Bloomsburg, could be your first or last stop on the wine trail. Three Dogs Vino offers a selection of red, white, and blush wines. Maggie Merlot, with nuances of cherry, plum, vanilla and mocha, and Dazzling Paws, a sweet fruity wine, might pair well with chocolates.
Location: 129 Hidlay Church Rd, Bloomsburg, PA
The Inn, Farmhouse, and Brewing Co. at Turkey Hill in Bloomsburg is the perfect place to stay for the 2019 Wine and Chocolate Trail, to celebrate Valentine's Day, or for a romantic getaway any time of the year. The award-winning Inn provides the comfort and ambiance of a romantic B&B plus amenities of an independent hotel. Many of our 23 guest rooms have fireplaces and whirlpool tubs; all have flat-screen TVs, refrigerators and microwaves. Guests can choose from fine dining at The Farmhouse or more casual fare at the Turkey Hill Brewing Company Pub and Grille.
Visit our website to choose among our uniquely decorated guest rooms, then go online or give us a call to reserve your stay.
Happy Valentine's Day!