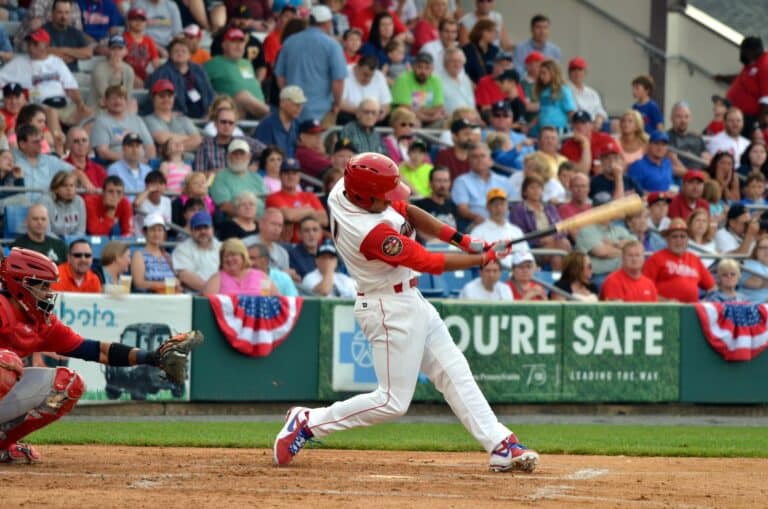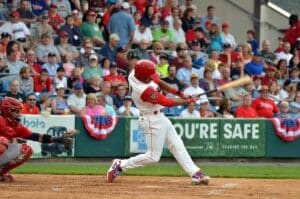 Summer brings Minor League Baseball to Northeastern Pennsylvania when the Wiliamsport Crosscutters play home games near Bloomsburg. Their renovated BB&T Ballpark is just a 50 minute drive from The Inn, Restaurant and Brewing Co. at Turkey Hill, so it's time to hum "Take me out to the ball game" when you're planning your summer vacation or weekend getaway in Northeastern PA.
Let's "root, root, root for the home team", a Class A Short Schedule affiliate of the Philadelphia Phillies. The Crosscutters' Summer League schedule of games extends from mid-June until Labor Day, with home games on both weekends and mid-week. The BB&T Ballpark , second oldest Minor League Park in the U.S, combines historic charm with the 21st century amenities baseball fans enjoy. Every home game includes a special event, giveaway, or appreciation night. Fireworks will light up the nights of June 21, July 3, July 5, July 12, and August 30, 2019. The Crosscutters' complete 2019 schedule includes information about the event planned for every home game.
Wiliamsport Crosscutter tickets are affordable, and you might see some future major leaguers at the start of their careers. To date, 584 former Williamsport ball players have gone on to play in the Major Leagues! According to Baseball America, top prospects this year are Alec Bohm, 3B (2019 prospect and 2018 top draft pick of the decade), Luis Garcia, SS, Adonis Medina, RHP, Adam Haseley, OF (2017 top draft pick of the decade), and JoJo Romero LHP. Visit the Crosscutters' website for additional information including stats, scores, the roster, and ticket purchase. You can even listen to games on the Williamsport Crosscutters Baseball Network!
It's easy to catch a game during your stay at the Inn. Buying "some peanuts and Cracker Jack" at the game won't spoil your appetite for dining at the Inn, either. You can enjoy both an artisan craft brew and casual dining at The Turkey Hill Brewing Company Pub & Grille, and fine dining in the relaxed, yet formal, country setting of the Farmhouse Restaurant.
In addition to baseball, the Inn is a great home base for outdoor activities like hiking on trails from easy to moderately difficult, paddling kayaks on the Susquehanna, summer fun at America's Largest Admission-Free Amusement Park, exploring Columbia and Montour Counties' historic heritage on the 2019 Summer Heritage Passport trail, or just relaxing. Don't strike out – whether you're a sports fan or not, we think you'll hit a home run with a stay at the Inn during your Northeastern PA summer vacation!
Williamsport Crosscutters Baseball: Class A Short Schedule affiliate of Philadelphia Phillies
Visit the Williamsport Crosscutters website to purchase tickets for ball games.
Location: BB&T Ballpark, 1700 West Fourth Street, Williamsport, PA
Phone: 570-326-3389
Image courtesy of Williamsport Crosscutters