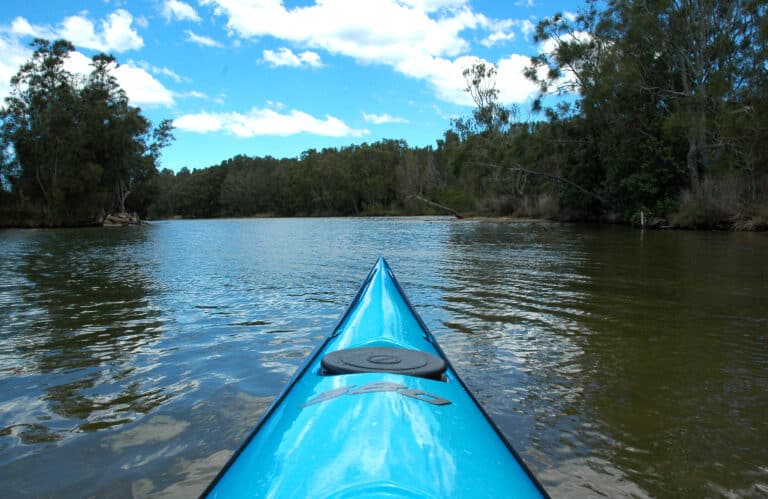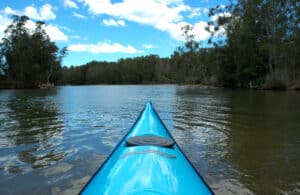 For a great outdoor adventure in Northeastern Pennsylvania this summer, rent kayaks for a paddling trip to explore the West Branch of the Susquehanna River near Bloomsburg, PA. A Susquehanna Greenway Water Trail follows the river from Watsontown to Lewisburg, PA. It's an easy part of the river for kayaking or canoeing, with no significant hazards. Milton State Park, on an island with hiking trails and picnic tables, is the halfway point on the kayaking adventure.
If you have your own kayaks or canoes, there are convenient launch locations, or you can arrange kayak rental or a kayak trip with Bic's Water Sports and Outdoor Adventures. They offer two trips that include kayak, life jacket, paddles, and transportation to the launch location. The longer 8.5 mile trip from Watsontown to Lewisburg takes about 2.5 to 4 hours, while a shorter, 3.5 mile paddle from Milton State Park to Lewisburg takes an hour or two. They also offer hourly and full day kayak rentals for shorter or longer kayak trips exploring the Susquehanna River on your own.
The Susquehanna Greenway Water Trail describes sites and navigation tips along this portion of the Susquehanna River.
Fields and forests border the first few miles south from Watsontown. The river flows under the I-80 bridge and then passes several islands.
About 4.5 miles from Watsontown, kayakers will reach the island with Milton State Park. It's a great spot to stop and relax on the longer route, and the beginning point for the shorter trip. The upstream portion of the island has picnic spots, water and restrooms. The natural area to the south is a great spot for birders looking for songbirds and migrating waterfowl.
South of this island, kayakers will pass farm fields at the river's edge and another island.
Approaching Lewisburg, the river access at Bic's Water Sports and Outdoor Adventures is just north of the PA-45 bridge on the east side of the river.
Before returning to Bloomsburg, and your lodging at the Inn, Farmhouse, and Brewing Co. at Turkey Hill, you may wish to explore some of historic Lewisburg, PA. The downtown along Market Street is listed on the National Register of Historic Places. It is the site of many events throughout the year, including the Lewisburg Arts Festival, Music in the Park, Sidewalk Art Festival, and Stroll Through the Arts, all presented by the Lewisburg Arts Council. Why not plan to visit Bucknell University and its Samek Art Museum Campus Gallery or Downtown Gallery, tour the Packwood House Museum, or wander Lewisburg's unique Street of Shops, "An Indoor Country Village"?
National Get Outdoors Day is June 8, 2019, so don't wait to plan your outdoor summer adventures near Bloomsburg, and reserve your stay at the Inn!
Bic's Water Sports and Outdoor Adventures
Location: 2832 State Route 405, Milton, PA Phone: 570-317-8922
Trips include kayak, life jacket, paddles, and transport to launch location.10% discount with military ID.
Route from Watsontown to Bic's docks is over 8 miles, between 2.5 to 4 hours. Cost: $40 Single Kayak, $60 Tandem Kayak
Route from Milton State Park to Bic's docks is over 3.5 miles, between 1 to 2 hours. Cost: $30 Single Kayak, $45 Tandem Kayak
Hourly Kayak Rentals: Single kayak $15 for first hour, $10 for each additional hour. Tandem kayak $25 for first hour, $15 for each additional hour. Contact Bic's for cost of full day kayak rentals.