Celebrate New Year's Eve 2019 with some of Pennsylvania's finest craft beers, perfectly paired with a 5-course Brewmaster's Dinner at the Inn, Farmhouse, and Brewing Co. at Turkey Hill in Bloomsburg, PA. For Brew Year's Eve, Head Brewer Donny Abraczinskas and Head Chef Steve Bigger have created an outstanding Italian-themed menu.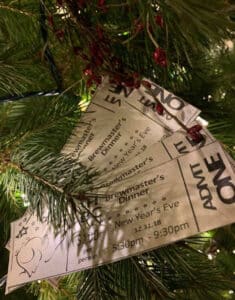 Begin with an appetizer of Pancetta and Green Pea Risotto – Creamy rice with sweet peas and Pancetta garnished with Prosciutto, basil and Parmesan cheese.
Shrimp Minestrone follows – A classic Italian stew of spinach, garbanzo beans, roasted tomatoes, bell peppers, Italian spices, Cavatappi pasta and Parmesan cheese with a twist – shrimp!
Refresh your palate with a Florentine and Grilled Radicchio Salad – Baby spinach and grilled radicchio topped with pine nuts, sun-dried tomatoes, Asiago croutons, Mozzarella cheese and drizzled with a roasted garlic Balsamic dressing.

Dinner guests will be offered two entrees from which to choose:

Beef lovers can feast on Grilled Filet Marsala – Two tender, four-ounce beef filets grilled and topped with a wild mushroom marsala sauce. Asparagus and mashed potatoes with bacon and Gorgonzola will complement the filets.

The entrée from the sea will be Pecorino Romano Crusted Bronzino – an iconic Mediterranean fish dusted with Pecorino Romano panko, then pan fried and drizzled with a Balsamic reduction. The Bronzino will be served on Italian black rice with roasted Roma tomatoes and garlic green.

The Italian finale will be Lemon Gelato–Limoncello Swirl Gelato accompanied with a Pistachio Cranberry Anise Biscotti.
Can you guess what brews they'll pair with each course? Just some of the ones currently on tap at in the Brew Pub include: Barn Dance Blonde Ale, Revelation and Pick A Hop Pale Ales, Just Another Belgian Pilsner, Black Heart and Inflategate New England I.P.A.s, The Third Season Saison, Industrial Union Dortmunder, Sixty Shillings Scottish Ale, and Iron Street Porter.
Ring in the New Year with hand-crafted artisan beers at The Brew Pub's annual Brewmaster's Dinner. Seats are filling fast, so don't wait to purchase your tickets and book your stay with us at the Inn! Happy Holidays!
Brewmaster's Dinner at The Turkey Hill Brewing Company
Date and Time: Tuesday, December 31. 2019 from 5:00 – 9:00 pm
Enjoy passed hors d'oeuvres and a cash bar from 5:00 – 5:30 pm, followed by the Brewmaster's Dinner from 5:30 – 9:00 pm.
Tickets are $100 per person for guests ages 21 and over. Tickets are required and seating is limited. Tickets are available at the Brew Pub daily after 4:00 and are non-refundable. The Brew Pub will not offer regular service this evening and will close after the Brewmaster's Dinner.